However despite working hard on his much-debated technique over the winter, Handscomb said his recent form had not come about because of major change.
"Not really. I can go into all the little minute things, but ultimately I'm just sort of seeing the ball and trying to hit it. Enjoying my cricket, love playing out here, it's a beautiful wicket, and just batting," Handscomb said.
He acknowledged though that he had missed a chance to go on and make a century, having departed after edging paceman Jhye Richardson to WA gloveman Inglis.
"I've been really enjoying batting lately, spending time in the middle, scoring runs is always a lot more fun than sitting on the pine. But today was a day I really should have gone on and made a hundred. So I'm disappointed in myself for that."
Handscomb also took the gloves for Victoria on Sunday with Seb Gotch sidelined because of a tooth infection. It won't necessarily be a permanent change though.
"[I'm] always happy to do it when the team needs, and if it's required," Handscomb said.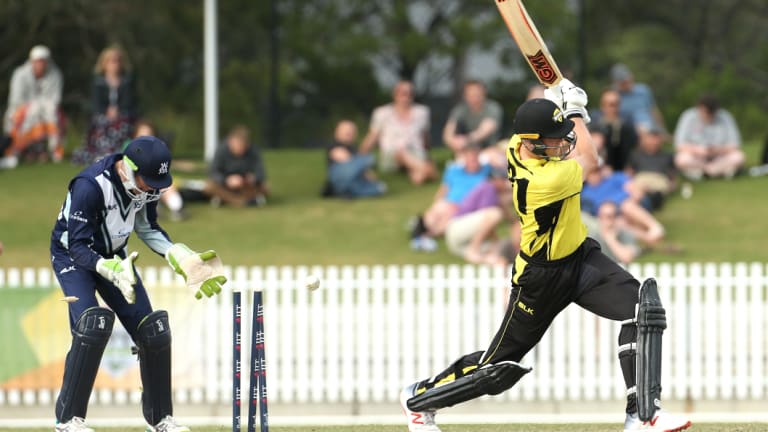 "Gotchy's been doing a really good job for us, and it if hadn't been for a tooth infection then he would have been 'keeping today."
Handscomb said Gotch was a "wait and see" proposition for the final, which is Victoria's first since losing to Queensland in 2012-13.
Handscomb explained the decision to hand the ball to Maddinson, who cleaned up the WA tail: "It's been something that we've been toying with the idea of for the whole tournament. I've just been waiting for the right moment," he said.
"We needed overs out of part-timers, there wasn't a left-hand batter out there, so it was like, right, 'two righties, Maddo let's see what you've got.' And he kept landing them."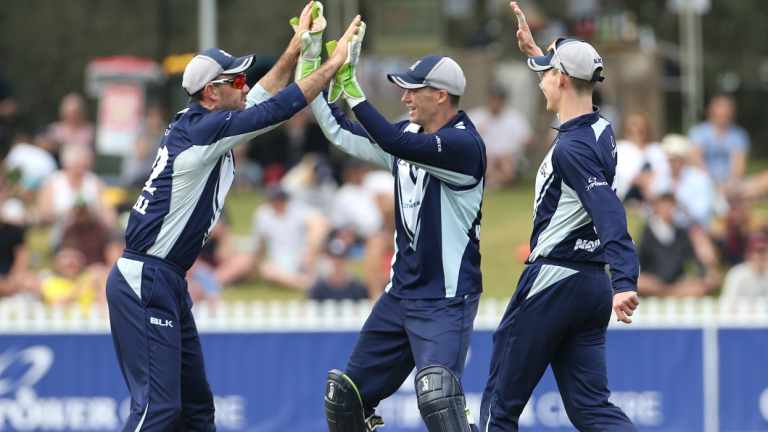 Glenn Maxwell's middling tournament continued as he was caught at backward square leg for seven and took 0-37 from five overs, although he did run out Ashton Turner and take a superb one-handed catch to finish the game after WA tailender Usman Qadir skied a ball from Maddinson.
Wednesday's final pits the Vics against former captain Matthew Wade, who made a century when the Tigers beat Victoria earlier in the tournament. The Vics have only won the one-day domestic competition once since the turn of the century.
Meanwhile James Pattinson will take another step on his long comeback trail when he plays for Victoria's second XI in the Futures League game against South Australia in Adelaide this week.
However the injury-prone quick won't be bowling in the game as he recovers from back surgery. Talented youngster Will Pucovski will captain the Vics in the game.
Western Australia-Victoria one-day clash at Junction Oval.
Victoria Innings
M HARRIS b Qadir 73 (49)
C WHITE c Inglis b Coulter-Nile 0 (3)
T DEAN c Inglis b Coulter-Nile 1 (6)
P HANDSCOMB c Inglis b Richardson 80 (73)
G MAXWELL c Philippe b Coulter-Nile 7 (11)
N MADDINSON c Turner b Stoinis 58 (63)
M SHORT c Coulter-Nile b Tye 36 (43)
C TREMAIN run out (Richardson) 25 (22)
J COLEMAN lbw Tye 0 (2)
F AHMED c Inglis b Richardson 16 (19)
A FEKETE not out 12 (9)
Sundries (5b 7lb 11w 1nb) 24
Total 332
Fall: 4 (White), 10 (Dean), 112 (Harris), 121 (Maxwell), 200 (Handscomb), 228 (Maddinson), 274 (Tremain), 281 (Coleman), 292 (Short), 332 (Ahmed).
Bowling: J Richardson 9.5-0-82-2 (5w/10), N Coulter-Nile 10-1-50-3, U Qadir 10-0-65-1, A Tye 10-0-64-2, C Green 4-0-30-0 (1nb), M Stoinis 4-0-15-1, D Short 2-0-14-0 (1w).
Batting time: 212 mins.
Overs: 49.5.
Western Australia Innings
J PHILIPPE lbw Fekete 28 (15)
J INGLIS c Maxwell b Tremain 63 (68)
D SHORT c Handscomb b Coleman 44 (45)
A TURNER run out (Maxwell) 7 (14)
M STOINIS c Fekete b Tremain 14 (17)
H CARTWRIGHT c Short b Fekete 22 (40)
C GREEN b Maddinson 27 (41)
N COULTER-NILE b Maddinson 18 (11)
J RICHARDSON not out 14 (10)
A TYE c Harris b Maddinson 15 (6)
U QADIR c Maxwell b Maddinson 6 (8)
Sundries (2lb 9w) 11
Total 269
Fall: 40 (Philippe), 121 (Short), 150 (Turner), 152 (Inglis), 173 (Stoinis), 208 (Cartwright), 232 (Coulter-Nile), 233 (Green), 253 (Tye), 269 (Qadir).
Bowling: G Maxwell 5-0-37-0 (2w/6), M Short 1-0-7-0, C Tremain 7-0-48-2 (2w), A Fekete 9-0-59-2, F Ahmed 10-0-45-0, J Coleman 9-0-43-1 (1w), N Maddinson 4.5-0-28-4.
Batting time: 179 mins.
Overs: 45.5.

Umpires: Paul Wilson, S Nogajski.
Result: Victoria won by 63 runs
Man of the Match: Marcus Harris
AAPSPORTRES
Daniel is an Age sports reporter.