Have I missed anything? Everyone in on the plan?
Great. Action stations everyone. Thunderbirds are go!
For Pete's sake
Meantime, in the real world, the most extraordinary quotes out of the whole saga really were from the CEO of Racing NSW, Peter V'landys, genuinely hailing the display of what effectively amounted to gambling ads on the Opera House on Tuesday evening as a PR coup.
"The beauty of it is the amount of publicity it received all around the world," Mr V'landys enthused. "We said we wanted to do it, to bring visitors to Sydney. We've done it without even the race because it's been on CNN, [we've been] asked for interviews by The New York Times, it's been on BBC.
"Someone said it was live on the news over in England at the time. If that doesn't attract visitors to Sydney, I don't know what will."
And, say, maybe he's right. Maybe in Oslo, London, New York and Buenos Aires they saw our most famous modern icon used to promote a gambling event, surrounded by howling protesters four days before the event and said: "Hello, hello, hello, Helga . . . there's an idea! Why don't we drop everything and fly to Sydney to watch a horse race. Yes, looks like fun."
In the real world? Not quite.
The New York Times headline set the tone: "Horse Racing Ad on Sydney Opera House Ignites Debate: Is All Australia for Sale?"
Loading
It sagely noted: "It was a promotional gimmick that badly misfired, but the backlash has revealed deeper fault lines in Australian society. Sydney's conservative old guard collided this week with a younger, more diverse electorate. The latter is frustrated over a city and a country that in its view have become enslaved to big corporations at the cost of shared values, and where sports, the right-wing media and rich insiders can dictate policy to politicians."
Similarly the BBC's headline story, "Sydney Opera House horse race advert ignites furore," focused on the controversy, not the race.
Let Racing NSW argue their case. But argue in the real world, not by spouting nonsense. When, as revealed by the Micromex survey, just eight per cent of NSW residents were strongly in favour of lighting up the Opera House in this manner, and it was done anyway, the New York Times and BBC are just part of the mix.
The point is that Houston, we have a problem.
Warne out his welcome
Loading
Bloody hell. Do the great Australian Test cricket teams of 20 and 30 years ago have reunions? If so, will Shane Warne be the bloke in the corner everyone is trying to avoid or, worse, throw sausage rolls at? Take his quotes to the BBC this week, reminiscing about the times, way back when. Tell 'em, Shane.
"I was embarrassed about some of the verbal diarrhoea that came out about the baggy green cap. I believed you didn't need a baggy green cap to say that you loved playing cricket for Australia."
He was particularly vitriolic about the time when, on the 2001 Ashes, Steve Waugh wanted the whole team to wear their baggy greens as they went to Wimbledon to support Pat Rafter.
"And I looked at Mark Waugh and he said 'I am not wearing that'. So the guys [who] idolised Steve Waugh, Langer, Hayden, Gilchrist, those type of guys, all wore the baggy green cap to Wimbledon. It makes me puke to think that these grown men wore green baggy caps to Wimbledon! So I refused. Looking back at some of those photos . . . it was embarrassing to watch."
Interesting, yes? And a clear parallel with David Campese in the Wallabies – far and away the most talented and celebrated member of the team, who nevertheless manages to burn bridges to just about every teammate with excoriating remarks over the years.
We try hard to love Campo anyway. I am not positive Warne's teammates do the same for him.
Book him, Ali
TFF's yarn last week about Muhammad Ali very nearly, and mistakenly, clocking Dawn Fraser on the chin during his visit to Sydney in 1979 was matched by reader Paul Miles.
For you see, Miles told me, while touring Sydney, Ali was assigned a knockabout old police sergeant as an escort. They both liked a joke and had lots of laughs, especially whenever the sergeant laughingly pretended to cuddle Ali's then wife.
At the end of the trip the great boxer wanted to write the sergeant a thank-you note and autograph, but the only paper handy was the sergeant's official notebook. Ali took the notebook and saw that each page was numbered and that some had ticks against entries.
Ever curious, Ali asks him about it.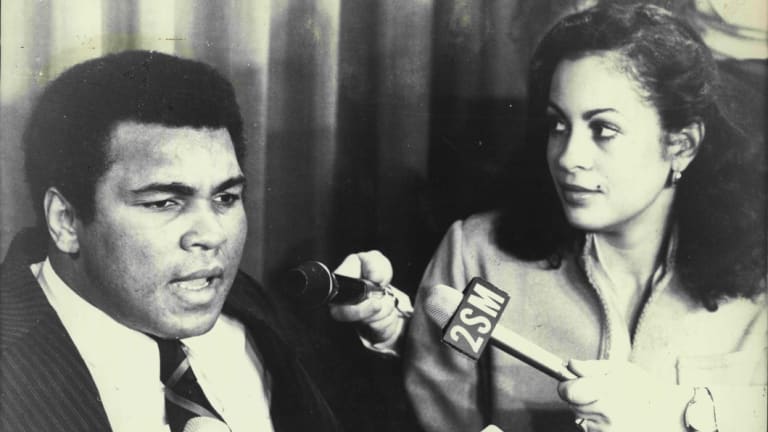 "What does this mean?"
"It is protocol," the old copper explains. "Every two weeks the officer-in-charge of the station has to inspect the notebook and tick off each entry to make sure that all the necessary paperwork had been submitted for every job the officer had attended. If all paperwork is done, the boss ticks each entry and then writes 'seen all pages, 25 to 39, nil outstanding', meaning all necessary paperwork has been submitted, and then sign it."
Ali laughed and then begins ticking each page of the notebook before writing on the last page "Seen all pages 25 to 39, nil outstanding, except me – MUHAMMAD ALI, THE GREATEST EVER."
Needless to say, the sergeant retained the notebook and did not file it at the station as required by the police regulations!
Body of work
I have long thought it strange that Philip Cox, the architect of the Sydney Football Stadium, never came out strongly in defence of his fine work, even as it was maligned as, effectively, an antiquated death trap.
There was no reply to the messages I left at his office inviting him to participate in the debate, and nor did he seem to add his own fire to the ire at the very idea of knocking down the SFS.
Was he ok, I wondered? Still out there, going strong?
Yes, more than OK, as it turned out.
For, as it happens, the new stadium – if it is indeed built, and knocking down the SFS makes its way through all the legal hurdles before the March election – has been designed by Cox Architecture, of which Mr Cox is a founding partner.
I have it from a good source that, as Sports Minister Stuart Ayres was effectively the client, he was able to insist that Mr Cox refrain from making comment on the whole redevelopment issue.
I register my arched eyebrows.
What they said
Shane Warne's former wife Simone Callahan reaches for the long handle, recalling how she and her children felt when news broke of Shane's affair with Liz Hurley: "I was shocked and embarrassed for the children because it was so public and this was just before the holidays. It ruined our Christmas. Shane is a little kid, like Peter Pan, and he doesn't think about how his actions will impact other people. You would think that a mother like Liz Hurley would be more mature and respectful of my kids, but she wasn't. I don't believe in hatred and ­bitterness but I do believe karma will make things right in the end."
Shane Warne on dealing with sudden fame and paparazzi: "At that time I didn't understand why they were doing it. I'm proud of how I handled it. Yes, I made a few mistakes but there's no school you go to which says if this happens this is what you do."
Back in 1948, Neil Harvey scored four runs at Leeds that Sir Donald Bradman could have scored: "That four at Leeds makes me feel very guilty. It's entirely my fault Bradman didn't average 100 in Test cricket. If he had've scored those four runs instead of me, he'd have got there."
Loading
Pakistani-Australian cricketer Fawad Ahmed has certainly got the Australian sporting argot down: "If you're physically fit, if you tick all the boxes, why not? I would say if you were 18 or 38, if you're ticking all the boxes then I think you should play and deserve the chances. If I'm bowling well and I'm physically fit and ticking all the boxes I'd love to play for Australia in any format."
Chris Dempsey from No Boston Olympics on Olympic host city reforms: "They ask cities to host their three-week party and for those cities to take on all of the risk . . . It has led to the incentive structure that has led to every single Olympics since 1960 having a cost overrun."
Collingwood runner Alex Woodward  about his accidental involvement in a West Coast goal during the AFL grand final: "The feeling of guilt and disappointment was something that I could not mask but I know that once I find peace of mind I will be able to block out everything else that is out of my control."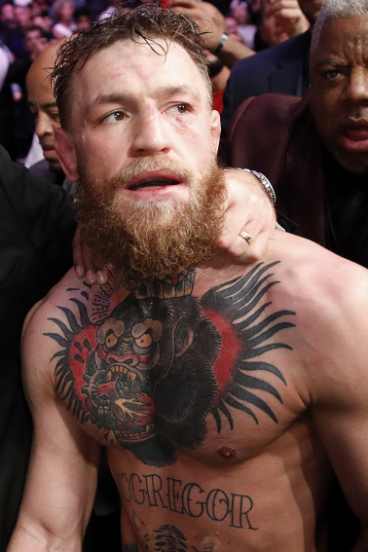 Mike Tyson couldn't believe his eyes watching the brawl after the UFC bout was nominally over: "Watching the @TheNotoriousMMA vs @TeamKhabib fight. Unimaginable never thought it would go down like this. Crazier than my fight riot."
Irony of the UFC's Dana White's comments are surely lost on him: "The biggest night ever and I couldn't be more disappointed . . . this is some street shit going on here. This isn't sport." Thank you, Your Honour, the prosecution rests. No further questions.
David Reynolds after cramping up and losing out at  Bathurst: "Mate, I'm just so, so devastated."
The great Shane Gould on winning Survivor: "Some say you're 61 and that could be a disadvantage . . . But in some senses it was an advantage because I've got all these years of experience of knowing how to pace myself and manage my energy and manage my emotions and how to get along with people you might not normally associate with."
Loading
Michael Cheika: "If you've won the World Cup, Bledisloe Cup or Rugby Championship you can be humble — we haven't won any of those things. We've got nothing to be humble about. We've got to be grounded and understand what we need to start to get some of those things so we can be humble."
Team of the Week
Kurt Fearnley  Australia's most deeply admired sportsperson was awarded The Don for 2018  at the Australian Sports Hall of Fame on Thursday evening.
Usman Khawaja  Scored 226 runs  in two innings, facing 477 balls, to help Australia to a miracle draw against Pakistan  in Dubai.
Shane Gould  Won the tv reality show  Survivor, a bauble to put on the mantelpiece to go with her five Olympic medals, including three gold as a 15-year-old  at the 1972 Munich Olympics.
Jan Stephenson  The Australian golfing pioneer inducted into the World Golf Hall of Fame.
Winx  Won her 28th horse race.
Craig Lowndes  Won seventh Bathurst 1000 in dramatic fashion
Wollongong  The  'Gong has won the right to host the 2022 UCI World Road Championships.
Wallabies  May have been a dead rubber  but the extraordinary comeback to win in Argentina after being down by 24 points at half-time  could be just the thing to turn everything around.
Matildas  Drew with England. Socceroos play Kuwait next week.
Twitter: @Peter_Fitz
Peter FitzSimons is a Herald journalist, columnist and author, based in Sydney. He is also a former Wallabies player.