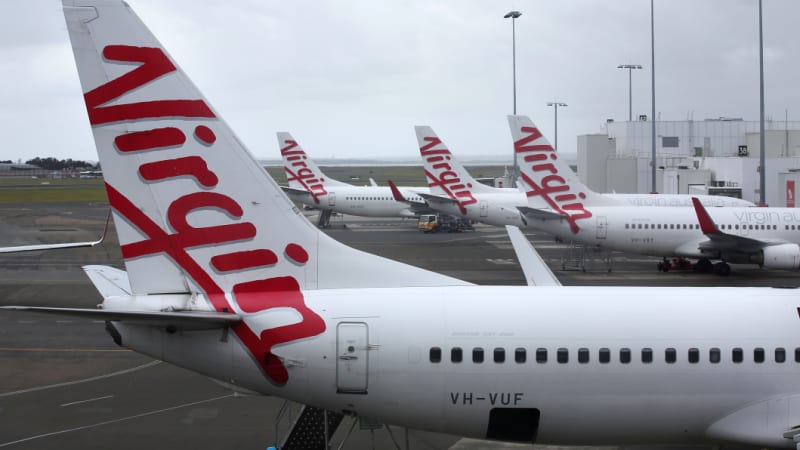 Loading
Momentum in the second quarter is shaping up to continue with Virgin telling investors on Monday that revenue will be ahead 10 per cent on the same quarter last year based on forward bookings.
Despite Virgin's financial performance now humming along, there remains persistent talk that two of its partner shareholders, the Chinese HNA and Etihad, are looking to offload their stakes of 19.2 per cent and 21.8 per cent respectively.
Both these airlines have been undertaking corporate clean-ups with HNA having recently sold $US18 billion ($25 billion) in assets to address its enormous debt burden.
Given such a large chunk of the register may be loose, one would think Virgin is a screaming takeover target.
It makes no sense for either of these large shareholders to place their stock widely so both would be attempting to sell their shares in a block.
But the peculiar nature of Virgin's share register muddies any takeover aspirations. There are five big shareholders that control about 95 per cent of the stock – each with their own agenda.
HNA and Etihad are in well-documented trouble and both have such large problems that selling their respective stakes in Virgin would not move the dial for either company.
These shareholders would be particularly aware that Virgin's prospects are improving and would presumably want to extract a decent price for their parcels or at the very least be reluctant to sell at a loss.
The noteworthy element to Virgin's profit upgrade is that, like Qantas, it is experiencing buoyant earnings particularly in the Australian domestic market at a time when many other businesses that cater to the discretionary market are struggling.
Loading
House prices are falling, wages are not rising, and the stock market is feeling plenty of turbulence yet business and consumers are still flying.
Even the political instability in Canberra, which normally results in a bit of spending caution, has had no effect on the domestic aviation market.
The single biggest contributor to this outcome is clearly the capacity limits that both airlines are placing on the market.
There has been some increase in demand but supply is flat which has given airlines pricing power and has enabled them to improve yields.
If the market remains rational around supply, the prognosis for future profits looks positive – although forward visibility in bookings is reliable only for a couple of months out.
The wild card for airlines including Virgin is the price of fuel.
It will be a big factor in determining whether Virgin can make a profit in the second half of the financial year – traditionally the much weaker half
For any would-be buyers the good news is that Virgin is a far cleaner business now than it was even a year ago.
The board wrote-off more than $760 million of assets, including $452 million of deferred tax assets, in the group's results for the year to June 2018, overwhelming the $109.6 million of underlying pre-tax earnings and pushing Virgin to a $653.3 million statutory loss.
The improved earnings and a reduction in debt may also lead to an upgrade from ratings agencies.
The only significant near term question that remains is who will lead the management of Virgin through its next phase.
The current chief executive, John Borghetti, will not remain beyond next year and there is an expectation he will leave in the first half of calendar 2019 as the search for his replacement is already underway.
Elizabeth Knight comments on companies, markets and the economy.