"Like me, Meghan probably never dreamt that she'd have a life like this, and the pressure you feel – from yourself and from others – can sometimes feel like a lot," she told Good Housekeeping magazine.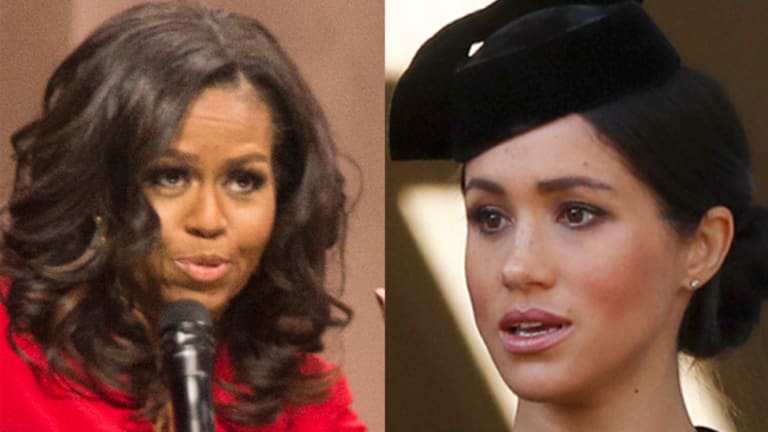 "So my biggest pieces of advice would be to take some time and don't be in a hurry to do anything. I spent the first few months in the White House mainly worrying about my daughters, making sure they were off to a good start at school and making new friends, before I launched into any more ambitious work.
"There's so much opportunity to do good with a platform like that – and I think Meghan can maximise her impact for others, as well as her own happiness, if she's doing something that resonates with her personally."
Obama was in the UK on Monday on a whistle-stop tour to promote her new memoir, Becoming. She was due to meet children at Elizabeth Garrett Anderson School in Islington before speaking at the Royal Festival Hall, London.
Loading
She and her husband enjoy such a close relationship with the Duke and Duchess of Sussex that they were rumoured to be joining the royal couple for a dinner hosted by George and Amal Clooney at their riverside mansion in Berkshire tomorrow night. But Palace sources suggested that tales of the star-studded dinner party were wide of the mark.
And Obama announced yesterday that she was cutting short her European tour to return to the US for the funeral of the former US president George H. W. Bush on Wednesday.
Obama recounts in the interview how she struggled to keep up with life in the White House.
"Thankfully I get more (and more regular) sleep these days," she said. "But it probably won't come as a surprise to anyone that sometimes it was a real challenge to keep up with the pace."
She said she, her husband and daughters, Sasha, 17, and Malia, 20, had a wonderful life in the White House but added that she was grateful they all "came out of those eight years in one piece".
Loading
Obama admitted that she thought in many ways things were harder for young women today, but said that they were not held back by "societal belief that girls and boys can't do the same thing", as her generation was.
"They're charging forwards in sports and maths and science and technology," she told Good Housekeeping.
"They're speaking up and speaking out… I find great hope in this generation of young women."
Most Viewed in Entertainment
Loading