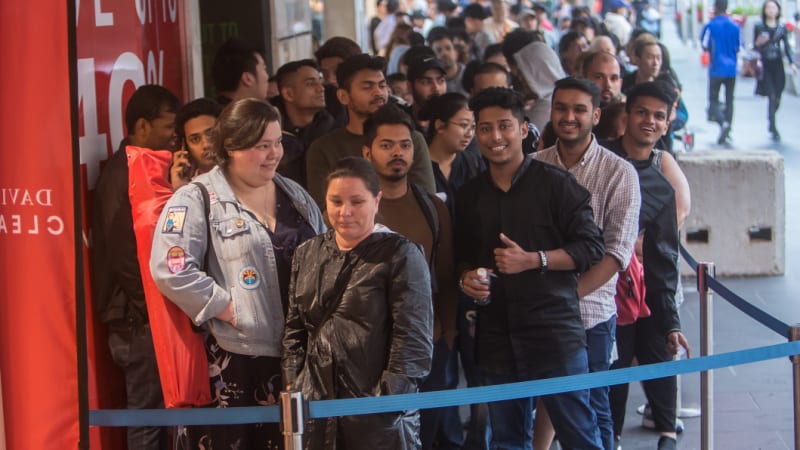 Loading
It was the group's first foray into the Boxing Day sales and despite her upbeat mood, Kharitonova said she wouldn't be lining up again overnight next year.
Some people joined the line after first venturing to the Myer sales, which began at 5am.
Jenny Yan, from Mascot, said she had arrived at Myer at 1am, shopped and left before joining the line for David Jones at 5:30am.
"I thought there was a golden ticket draw [at Myer] but there wasn't," she said.
In past years Myer had offered golden tickets, which saw early birds snag gift cards, televisions and other prizes.
Ali Syed of Chippendale was another one who lined up for both Myer and David Jones.
"This year, the lines aren't as big. Last year was really crazy at Myer, but comparitively this year I don't think it was that crazy."
As online sales continue to make up a higher percentage of total sales each year, it's not totally surprising that fewer shoppers brave the department store queues.
'Up and there at 3am'
But Steve and Cherie Grasion from Redfern said they were enjoying the atmosphere and the 'old school' nature of physical shopping – and were waiting in line well before the doors opened.
"Last year, I wasn't prepared but this year I was ready. I was up and there at 3am", Steve said.
David Jones is expecting more than a million people to visit stores throughout Australia on Boxing Day, with David Jones Retail Director Aaron Faraguna calling it the biggest shopping event of the year.
Some shoppers would beg to differ. "It was rubbish," said Shahood Khan.
Shahood, his wife Farah and son Ali had travelled from Revesby to be among the first in line at David Jones, but were disappointed with the results.
"20 per cent, 30 per cent … the things you like they don't even have a sale on it," he added.
Myer's Retail Operations Director Tony Sutton is forecasting more than two million visitors on Boxing Day.
"It's an Australian tradition that many families and friends enjoy each Boxing Day," he said.
'Delays of up to 40 minutes'
Traffic around the CBD was not too bad, as most people were catching public transport to get to the Boxing Day sales, a Traffic Management Centre spokeswoman said.
However, traffic around the Homebush DFO is another story with heavy traffic on Underwood Road, Homebush Bay Drive and Australia Avenue.
"We've also got bys delays in the area of up to 40 minutes," the TMC spokeswoman said.
Traffic is expected to remain heavy in the area throughout the day.
With Rachel Clun
Matt Bungard is a journalist for the Sydney Morning Herald.