"Pretty ordinary," said Handscomb of the booing.
"He's representing his country, he is doing a great job doing it. I wasn't obviously very happy with that."
Regardless of how this Test pans out, selectors will have a tough call to make for the final match of the series that starts next Thursday at the SCG.
Handscomb was axed on Christmas Day for Marsh after scores of 34, 14, seven and 13 in the first two Tests at an average of 17.
While Handscomb said he would do everything possible to earn a recall, he has all but accepted that Marsh will probably get the green light in Sydney again.
"It's going to be a tough call on them," Handscomb said.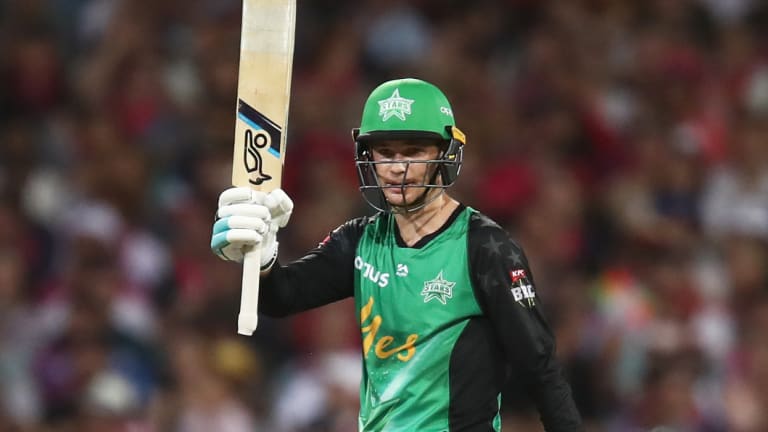 "Mitch Marsh is probably going to have to play if it is flat and spinning, we're going to need another bowler.
"To come into the side off the back of one T20 hit is a tough call but I'll be putting my hand up and working my arse off in the nets."
Loading
While Twenty20 action and red ball cricket might be polar opposites, Handscomb is of the view that scoring runs in any format is beneficial.
"I think runs are runs," he said. "We saw Aaron Finch get picked in the Test side on the back of some solid T20 runs but that was multiple games.
"This being one hit, if I'm going to try and get back in I've got to do it again and again and really force my hand so the selectors have no choice but to pick me.
"It's the same old conversation that has been happening with my technique for however many years now. I'm sick of talking about it. It was good to show I can still make runs."
With Australia still trailing by 435 runs in their first innings, Handscomb conceded it would be a big ask for his national teammates to claim an unlikely victory.
"It's been a long couple of days for the boys," Handscomb said.
"Three days left, the wicket doesn't seem to be doing a great deal but maybe if we go out there with a bit of intent and look to score a bit more we might be able to force a result. It's looking pretty tough."
Tom Decent is a journalist with Fairfax Media.