It's understood the sign and gantry were installed as part of the CityLink-Tulla Widening project at the end of 2017.
Major Road Projects Authority delivery director Graeme Chambers told radio station 3AW on Wednesday morning that all signs installed at similar time along the freeway would be investigated.
Mr Chambers said he didn't know how much the metal sign weighed but that it was about four by five metres in size.
The support structure that held the sign to the gantry also fell and crushed the car.
"The sign and the support structure attached to the gantry has come down, so it's somehow failed where the connection is to the overhead gantry," he told 3AW.
Mr Chambers said the work was done by contractor Transurban.
"It [will be] all subject to detailed and thorough investigation," Mr Chambers told 3AW. "It is an extremely rare situation… it was of immediate concern. We last night mobilised our engineers as soon as we learnt of the incident."
Mr Chambers said overnight, the area and surrounding traffic signs were inspected and there was believed to be no risk to drivers of other traffic signs falling onto cars.
"Equipment was used to test surrounding areas …  and the experts say there are no concerns that it will happen again," he said.
He said there were "rigorous design process and checking processes" before any signs were installed.
"We don't know at this moment why this occurred, but we take this very seriously," Mr Chambers said.
Part of the freeway was shut down for a number of hours after the incident, with motorists advised to exit early at English Street and re-enter the freeway at Bulla Road.
"It is unusual," Highway Patrol officer Jason Lane told ABC on Tuesday.
"I haven't come across it before."
Wind was not a factor, he said, and VicRoads had been requested to check other signs.
No other cars were hit.
A crane was used to remove the sign from the road.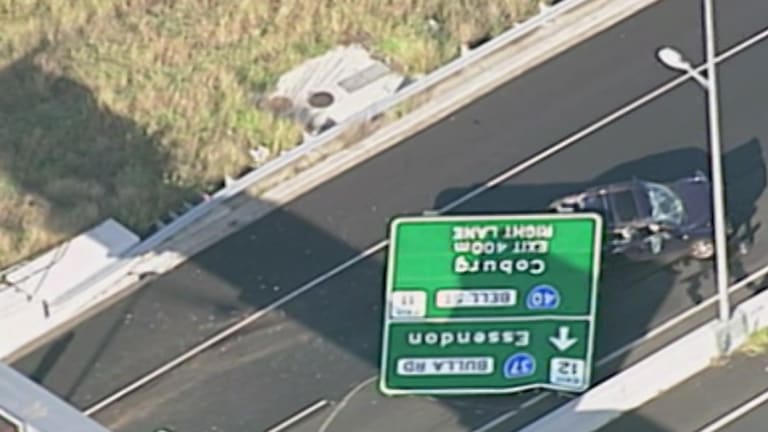 A Major Roads Project Victoria spokeswoman said staff were at the scene on Tuesday night assessing the road and gantry.
The investigation into what caused the sign to topple was ongoing, she said.
"We'll be thoroughly investigating how this occurred and our thoughts are with the woman as she recovers," she said.
A spokesman for Transurban said an initial investigation to check other similar signs installed as part of the CityLink Tulla Widening project was done overnight.
"Safety is of paramount importance to us and we will continue to work in collaboration with VicRoads, Major Road Projects Victoria and CPB Contractors as part of the investigation," he said.
Police said investigators had obtained dashcam footage of the incident but appealed to anyone who witnessed the sign falling to contact police.
Melissa Cunningham reports breaking news for The Age.