New retail sales figures for December have come in lower than expected and ANZ economists are blaming Black Friday sales in November.This suggests another soft outcome for fourth quarter consumer spending data, due on March 6. Retail sales fell 0.4 per cent in December compared to November, considerably weaker than both ANZ and market expectations. And compared to December 2017 sales growth was steady at 2.8 per cent.
"The RBA is likely to be disappointed with the weakness in retail sales, given its relatively upbeat view on the consumer spending outlook," ANZ's economists noted.
The S&P/ASX 200 is still rising, now up 130 points to 6021.4, a one-day gain of 2.2 per cent and the highest level since October. The financial sector is up nearly 5 per cent and has added 92 points alone. Westpac bank is up a massive 7.7 per cent to $26.78 and ANZ Bank is up 7 per cent to $26.97.
All sectors are positive with materials up 1.6 per cent and information technology is up 1.5 per cent.
Paul Clitheroe's financial advice company InvestSMART is up by 3.7 per cent to 14 cents this morning. It released a letter to investors this morning noting the Hayne report recommends repealing grandfathered trailing commissions (which pay commissions in perpetuity) as soon as possible.
InvestSMART says it is already moving away from grandfathered commissions towards a fee-charging structure. However, in the 2017-18 financial year it InvestSMART earned $6.2 million from grandfathered commissions and rebates.
It expects commissions from life insurance sales to remain steady at about $2.3 million a year.
Mortgage broker Australian Finance Group has dropped as much as 34 per cent this morning to 84 cents, but has since recovered a little to a current price of 90.2 cents. It released a statement to the market this morning headlined "AFG warns homebuyers will pay more if competition in home loan market is eroded".
Chief executive David Bailey welcome the report but warned major changes to the mortgage sector could "deliver pricing power and higher margins back to the major banks".
"AFG was disappointed by the emphasis the Royal Commission placed on comments by the Commonwealth Bank about mortgage broker remuneration models and the major bank's positioning was clearly self-serving and designed to win market share from the smaller banks."
Shares in Mortgage Choice are down 23 per cent this morning to a ten-year low of 81 cents from $1.05, and wiping $30 million off the company's market value
The royal commission recommended a radical shake-up to the mortgage broking industry, but although the government agreed there was a need to "address" conflicted remuneration in broking, it did not commit to implementing all of the commission's mortgage broking recommendations in full.
Mortgage brokers, who face a massive upheaval in their business model under the proposal, claimed the proposal threatened to drive up interest rates on home loans, while also giving more power to the big banks. Commissioner Kenneth Hayne said banks should firstly be banned from paying trail commissions on new loans, with the remaining up-front commissions to be phased out over two to three years.
Read the full story by Clancy Yeates on the proposed changes to mortgage brokers here.
Westpac and Commonwealth Bank were both heavily shorted last week, according to the shortman website that collates data from from the Australian Securities and Investments Commission (on a four-day delay). ANZ also had elevated levels, while short positions on NAB were subdued, suggesting traders did not expect its share price to drop much after the royal commission final report was released.
Commonwealth Bank has 2 per cent of its shares shorted by last Thursday, the highest level of shorting in two years. And short positions on Westpac started to peak last Thursday, but were dropping off by Friday.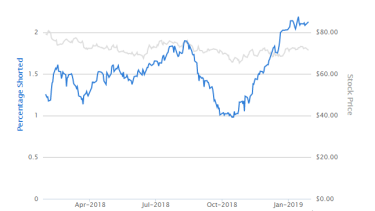 Portfolio manager at Sydney-based Tribeca Investment Partners, Jun Bei Liu, says the surging bank stocks are due to short sellers covering their positions.
"We saw the short positions had picked up significantly last week. [Today's surge] is people seeing that is nothing surprising in the report so they are covering their short positions. People were betting it would fall and when that didn't happen and the catalyst is passed, they look to buy back their positions," she said.
For novices, short selling is a way to profit when you believe a stock price will fall. The trader borrows stock from a long-term investor, like a superannuation fund, and sells it into the market at the current price. A few days or weeks later the trader repurchases the stock at the lower price and returns it to the superannuation fund, pocketing the difference between what they sold it for and what they re-purchased it for.
FlexiGroup announced a $12 million post-tax impairment in its commercial leasing business this morning and said it now expects profits between $76 million and $80 million for the current financial year. The consensus analyst estimate is for net profit of $96.5 million. Shares are down 18 cents, or nearly 16 per cent, to $1.075 this morning – the lowest share price in ten years.
One of FlexiGroup's equipment finance vendor program partners has entered voluntary liquidation. "FlexiGroup believes its contractual arrangements with the underlying small business borrowers are sound and enforceable, and has been endeavouring to identify if there is a course of action which could be taken to assist in meeting the offer made to those customers by the intermediary," it told the market.
"This has proven difficult, and FlexiGroup has therefore taken the decision to provision for $12 million after tax in relation to the Group's exposure…".
Excluding the impairment, FlexiGroup says operations are positive with good momentum and cash profits in the first half were up 3 per cent to $32 million.
The S&P/ASX 200 is currently 89 points higher at 5975.9 and the financial sector alone has contributed 70 of those points. Commonwealth Bank is up 4.2 per cent to $73.23, Westpac is up 5.9 per cent to $26.35, Australia & New Zealand Bank is up 5 per cent to $26.47 and NAB is up 3.7 per cent to $24.93.
AMP is picking itself back up off the floor with a 7 per cent gain to $2.36, and IOOF Holdings is up 9.6 per cent to $5.35. IOOF's acting chief executive Renato Mota said the financial advice and wealth management firm fully support the recommendations in the Hayne report, adding IOOF is already making cultural and governance changes that will meet new regulations.
"IOOF takes the obligations it owes its clients seriously and has an unwavering commitment to accelerating change and restoring trust," the company told shareholders.
Australian Finance Group has issued a statement this morning.
"AFG was disappointed by the emphasis the Royal Commission placed on comments by the CBA about mortgage broker remuneration models as the major ban."
Shares are down 33 per cent to 86 cents in early trading, the lowest price in three years.