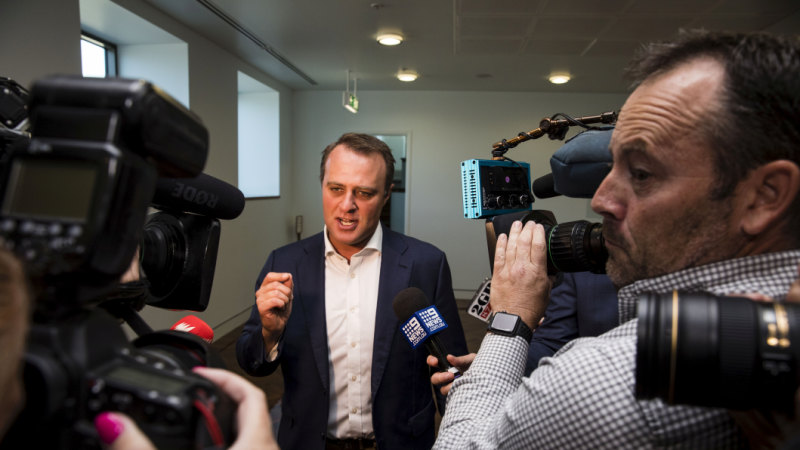 Loading
He has been criticised for the inquiry's links with Wilson Asset Management, a fund founded by a distant relative that Mr Wilson also invests with. Inquiry attendees also found themselves receiving Wilson Asset Management advertising material after the hearings and, in leaked audio, fund manager Geoff Wilson claimed he contacted his relative MP to ask for the hearings to be scheduled at the same time as his six-monthly investor roadshows.
Additionally, Mr Wilson faced criticism for using the official Commonwealth insignia on a Liberal Party-funded website opposing Labor's proposed franking credit changes.
Labor called for Mr Wilson to resign on Friday, and on Monday Mr Wilson responded: "Bring it on."
"It's a private website, it's quite clear it's a private website, it's owned by the Liberal Party," he said. "It's entirely consistent with the duties of a Member of Parliament to use the coat of arms as part of our parliamentary duties."
In defending himself against Labor's claims he "colluded" with Wilson Asset Management, Mr Wilson said any interaction with the fund by inquiry attendees was voluntary.
Loading
"We have a website we encourage people to send a submission through," Mr Wilson said. "There was an option to sign the Wilson Asset Management petition, the link to the petition was there."
"If people wanted to sign that then we honoured their request, nothing more. The whole basis of Labor's argument is just an absolute fiction."
On his own personal ties to Wilson Asset Management, Mr Wilson said any potential conflict was pre-disclosed.
"The family connection that people keep going on about, the person involved, Geoff Wilson, is my great-grandfather's cousin's grandson. You have to go back to the 1850s to draw this ridiculous connection," he said.
In a statement last week, Mr Wilson's office said that Mr Wilson's great grandfather is Geoff Wilson's grandfather, making them first cousins, once removed.
"Secondly, yes I hold shares that are managed by Wilson Asset Management," Mr Wilson said. "That was fully disclosed on the parliamentary register, it's never been a secret, they have always been there and there is no impact on the value of the shares or the income of the shares as a direct consequence."
On Friday, Opposition Leader Bill Shorten condemned Mr Wilson and said he would seek to refer the MP to the privileges committee, which could rule on whether he has a conflict of interest.
"This tainted inquiry has been dodgy from day one and it's just gone from bad to worse," he said. "I think it is breathtaking that the Liberal politicians are colluding with their friends in the banking and investment community to protect existing business models."
About 900,000 non-taxpaying shareholders would lose a tax refund worth thousands of dollars each year under Labor's plan.
Max is a journalist at The Sydney Morning Herald and The Age.