"We don't believe there is sufficient consequence for actions and behaviours towards treatment of staff," Ms Batt said.
"We had a recent attack on a staff member with what's known as a sticky bomb. Sugar and honey is put into the microwave and was thrown at a staff member, disfiguring them."
"The trauma that has created for that individual, it's exacerbated by the trauma of those who witnessed it and there's almost no punishment for the individual that did it."
The list describes dozens of other incidents where staff were spat on, bitten, threatened with rape and kicked in the head.
Some staff were assaulted by inmates throwing Xbox controllers at them.
Others incidents include:
A young person wrestling a staff member into a bedroom and threatening to rape them.
A young male sexually assaulting a female staff member by inappropriately touching her on the backside.
A young person attacking a staff member with a pen as he was responding to an alarm in the unit, stabbing him in the face and head.
Ms Batt said Parkville was becoming increasingly dangerous for staff.
Loading
"The issue predominantly is remand now rather than sentenced [inmates] and as a result the whole management regime is predicated on sentenced clients rather than remand," she said.
"We are having real difficulty managing the culture that's inside.
"I would say the site is hot and it does need to have a recalibration of the way the model is operating and some serious time spent by those at Spring Street, rather than playing politics, to sit down and work out a solution."
Ms Batt said at least another 50 workers were needed.
"(Assaults) are escalating not just in frequency, but the intensity in terms of the attacks on staff and attacks other clients. It is a very seriously dysfunctional site."
Despite some improvements, workers do not stay in the job long with many rosters unfilled and rotating lockdowns leaving inmates in cells for hours, she added.
More highly-trained staff, and a greater focus on employee health and safety, were needed, Ms Batt said.
In State Parliament on Thursday, the Opposition pressed the government on why it had "failed to make this facility secure".
But Youth Justice Minister Ben Carroll said Wednesday night's incident was unacceptable and was referred to police the following morning.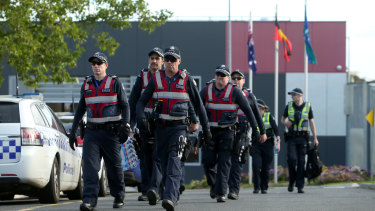 He said the Andrews government had committed $50 million to upgrading the facility.
Mr Carroll told parliament he had met with the Community and Public Sector Union three times since he took on the Youth Justice portfolio. "There are workforce challenges. We don't deny that," he said.
He told reporters a dedicated youth justice act would go to the heart of policy and the procedures required to improve the system.
"We put investments in to make it more of a custodial facility, we know we need to do a lot more, we need to support our staff, but most importantly to work with the young and disadvantaged," he said.
Opposition Leader Michael O'Brien said the vision of the youth on the roof would make Victorians question who is running the youth detention centres.
"Whether it's assaults in prisons, whether it's youth offenders on the roof, this is a government that's lost control of our jails," he said.
Following violent riots at the centre in late 2016, which caused significant damage to the building, an independent review was conducted into the incident.
The review recommended that a new youth justice precinct should be built.
The Victorian Government is building a new youth justice centre at Cherry Creek, west of Werribee.
Simone is a breaking news reporter for The Age. Most recently she covered breaking news for The Australian in Melbourne.