Those grand finals in front of 50 friends and family felt more like 5000.
And that is roughly how many fans will pack into Redfern Oval on Saturday evening when Sutton is honoured with a testimonial game. Some of the proceeds will go to the loyal servant and be excluded from Souths' salary cap.
Parking will be a nightmare. Park rangers will have a field day (they have been known to book the Souths gear truck when parked at the back of the stadium).
He has a genuine love for the club and South Sydney area. He never complains, turns up every day and enjoys what he does.

Wayne Bennett
But the February blowout against Penrith will provide the NRL with some desperately-needed feel-good scenes.
"He's not the Prince of Redfern. That would be Nathan Merritt. 'Sutto' is the King of Maroubra, but he's so well-respected in South Sydney because of what he has achieved and what he has done in the community," said Souths teammate Adam Reynolds.
Sam Burgess put his hand up to play with "Fossil", and the show of hands from so many other Souths players to take part in this special game for a special teammate reflected his standing at the club.
"We call him the fossil because he's one of the oldest guys in the team, but he turns up with the most energy and one of the best attitudes every day. It probably epitomises why he's had such a long career," Burgess said.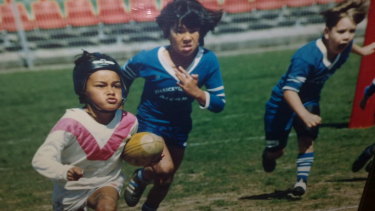 Russell Crowe is in New York and won't attend. But Sutton's parents will be there, with the back-rower requesting we speak with his dad, John, rather than mum, Elena.
"Whenever there's a story about me mum is always quoted, and dad gets upset," Sutton quipped.
John snr spoke about his son being so fast he reached the state little athletics championships for the 100m sprint. But growing pains when he was around 12 played havoc with his knees, even to the point he was forced to contact the Kensington coach and request he miss the grand final that year,
"He couldn't run and was in pain, but the coach said, 'I need him on the ground, I don't care if he can run or not, he knows all the plays," John snr said.
"He played. He could only jog. But they won."
Sutton has enjoyed a brilliant career. He was the first player to crack 300 games at Souths. It is a feat that can not be underestimated because of the long history of the club.
Loading
He refused to rule out punching out another season in 2020, but will not give it much thought after the casual outlook worked so well for his game last year.
Sutton made his NRL debut against Wayne Bennett's Broncos in 2003. He played in the centres and scored a try.
Bennett has only been at Souths a couple of months but instantly found out what Sutton meant to the Bunnies.
"He's a really nice guy, very stable and all the players respect him enormously here," Bennett said.
"He's had offers to go elsewhere but he's always wanted to stay here. He has a genuine love for the club and South Sydney area. He never complains, turns up every day and enjoys what he does."
About 5000 people will enjoy watching Sutton in what will be another wonderful Redfern memory with tickets available from the Rabbitohs' website.
Christian covers rugby league for The Sydney Morning Herald.