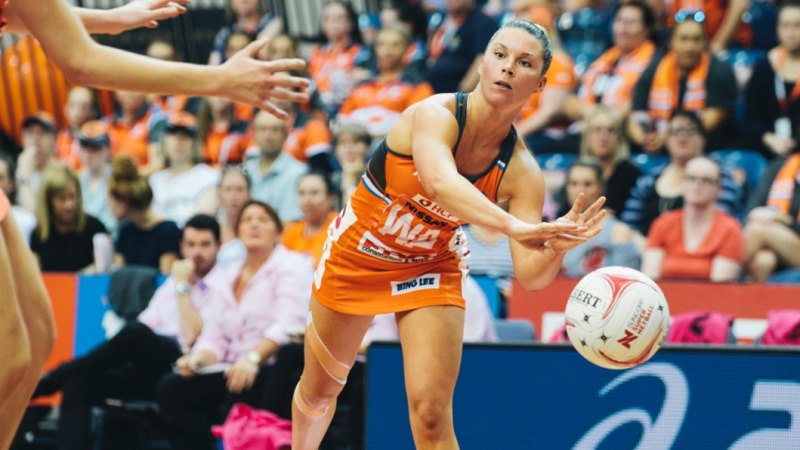 I told Alan that I hoped he realised I'd never actually kicked a footy before.

Taylah Davies
"I didn't grow up playing football, so for me learning the basic skills of AFL has been a big adjustment," she said. "It's tough, and a lot more running than I'm used to, but I'm really enjoying it."
She described her first kick of the football in the presence of McConnell as a nerve-wracking experience.
"I told Alan that I hoped he realised I'd never actually kicked a footy before," she said. "A few of my kicks were terrible, but by the end he taught me the basics and what I needed to go away and work on. And I did just that, I worked on them every day."
It's now been months since Davies picked up a netball, which came as a surprise to an athelete who has played since childhood and never envisioned herself changing sports.
Loading
"AFL definitely wasn't in my sights or in my plan," she said. "But here I am."
Davies is the third netballer to join the Giants side after Elle Bennetts and Lisa Whiteley.
Other high profile code-hoppers in the AFLW include Ash Brazill, who currently plays both sports, and World Cup winner Sharni Layton, who retired from netball and joined the AFLW last year.
Both play for Collingwood, the only other AFLW club with a netball team. Netballers from the two sides will come face to face as footballers on Sunday when GWS and the Pies play each other in Melbourne.
When the AFLW launched, there were rumblings it would pose a challenge to netball by poaching its athletes, but the superior money and time commitment in netball seem to have kept the threat at bay so far. Davies admits netball is still her preferred code.
"I definitely miss it," she said. "After this finishes, I'll pick up a netball again and still have a go. At the moment football is my priority, but netball has been a big part of my life so I want to continue on with that."
But Davies is grateful. When she missed out on being offered a netball position this year, the AFLW offered her the opportunity to continue playing sport professionally.
"I absolutely love training, love keeping fit, and I love that vibe of sport – the professionalism and eliteness," she said. "I'm really honoured to be part of that and still pursue a sporting dream."
"I think it's really exciting that there are so many avenues out there for girls and women. If there's not an opportunity in one sport, there's a hundred out there, whether it's AFLW or another sport, I just think it's awesome."
Natassia is a journalist for The Sydney Morning Herald.