She was found dead at the bottom of a set of stairs at the family's Red Hill home but it wasn't until later that the death was deemed suspicious and a murder investigation opened.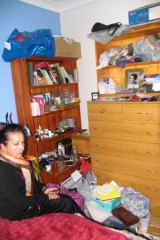 Her daughter-in-law Melissa Beowulf, 61, and two grandsons Thorsten, 32, and Bjorn Beowulf, 21, are now on trial in the ACT Supreme Court charged with her murder.
They have pleaded not guilty.
On Monday, Dianne McGowan was called to the stand for a second day.
Dr McGowan was Mrs Beowulf's husband Thorhammer Beowulf's de facto partner, and they also had a son together.
The court has heard the three adults and their five sons lived together for many years.
In 2015 Mrs Panin moved into the home with Mr and Mrs Beowulf and Dr McGowan.
"I never saw Melissa hit Katherine, but Melissa did like to get in her face," Dr McGowan told the jury.
She said one time Mrs Beowulf and Mrs Panin had words and she heard Mrs Beowulf call her mother in law a "c–tface" and just kept repeating the phrase.
Dr McGowan said she witnessed one incident in which Mrs Beowulf got into Mrs Panin's face and the older woman crossed her arms above her head.
Mrs Panin had moved from Sydney to Canberra to live with the family in early 2015.
Of the relationship between Mrs Panin and her son Dr McGowan said: "It went from tolerance to intolerance."
Dr McGowan also told the court how when Mr Beowulf was in a hospice dying of pancreatic cancer that he and Mrs Beowulf spoke to her and asked if she could be meaner to Mrs Panin.
She said that after Mr Beowulf died Mrs Panin confided to her that her son had "jackbooted" her down to the solicitor's office to change her will.
But Mrs Panin told the woman that she intended to make another change because she wanted her money to be equally shared between the family, the jury heard.
When Mr Beowulf was dying, Mrs Panin told her good and that she hoped he suffered.
On the day Mrs Panin died, she was due to move out of the Red Hill home and into a retirement unit, the court has heard.
Dr McGowan said when Mrs Beowulf called to let her know Mrs Panin had died she was hysterical.
Earlier Monday, a general practitioner for the allegedly murdered woman told the jury how the name Philip Nitschke had come up during one of their appointments.
While under cross examination by defence barrister Ken Archer, Dr Brenda Masters agreed that Mrs Panin was nihilistic and thought she was going to die.
She agreed that Mrs Panin didn't want anything done about it.
She said Mrs Panin reported how a daughter was researching Philip Nitschke.
The doctor also agreed under defence questioning that certain of Mrs Panin's medications could cause balance problems and falls.
During the doctor's examination in chief by the Crown's Margaret Jones, she told the court how she was commiserating with Mrs Panin about her late son when she received a vehement response.
Mrs Panin said she couldn't care less about her son's death from cancer because he took advantage of her and appropriated her money, Dr Masters said.
The doctor said Mrs Panin basically said good riddance, and that she had no feelings for her son at all.
The court also heard that Mrs Panin had very poor eyesight in one eye, had had tumours removed, an incidence of Bell's Palsy and various other medical conditions.
The trial continues.
Alexandra Back is a reporter with The Canberra Times