ACCC chairman Rod Sims said he was disappointed the Productivity Commission had recently rejected its call for an independent arbitrator to rule on disputes between airports and airlines.
"We are not talking regulation in a sense of the ACCC determining what they can charge airlines or passengers. We thought we came up with a pragmatic idea. Obviously the Productivity Commission had a different view," he said on Monday.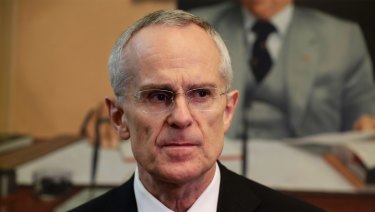 Mr Sims warned that airports "had the whip hand" in negotiations with airlines and tended to act as "sensible monopolists" by subtly increasing prices over the long run.
"What we see with all airports in Australia is that profits keep going up, up and up. There is no real pressure on the airports because they are a monopoly," he said. "They are a completely unregulated monopoly. We are are not retreating from our position at all."
Loading
Sydney Airport's annual profit of $382 million last financial year – up 4 per cent due to strong growth in passengers – made up almost half of the total profits of the country's four largest airports.
Its car parking was the most profitable of the four airports – which include Melbourne, Brisbane and Perth – for the fifth year in a row, earning it almost 70¢ for every dollar of revenue. However, operating profit from car parking fell by 3.5 per cent to $95 million – the second consecutive year of falls in profit from car parking.
The cost of short-term car parking at the terminals remained "relatively stable", although parking for up to 30 minutes rose by 3.6 per cent to $9.50 last financial year.
The high cost of car parking has long been a bane of passengers.
The competition regulator has repeatedly advised motorists to search for savings by pre-booking online or parking with an independent operator.
The annual report, released on Monday, found Sydney Airport's overall quality of service to passengers and airlines improved to a rating of "good", from "satisfactory" last year.
Ratings for the international terminal showed a "notable improvement" following major investment, but remained "relatively unchanged" for the domestic terminals.
The Australian Airports Association said it was pleasing that the regulator's report indicated that all four of the country's largest airports had achieved an overall quality of servicing rating of "good".
"This shows that the years of investment in technology and infrastructure by our major airports is bearing fruit for passengers and airlines alike," the association's chief executive, Caroline Wilkie, said.
Matt O'Sullivan is the Transport Reporter for The Sydney Morning Herald.