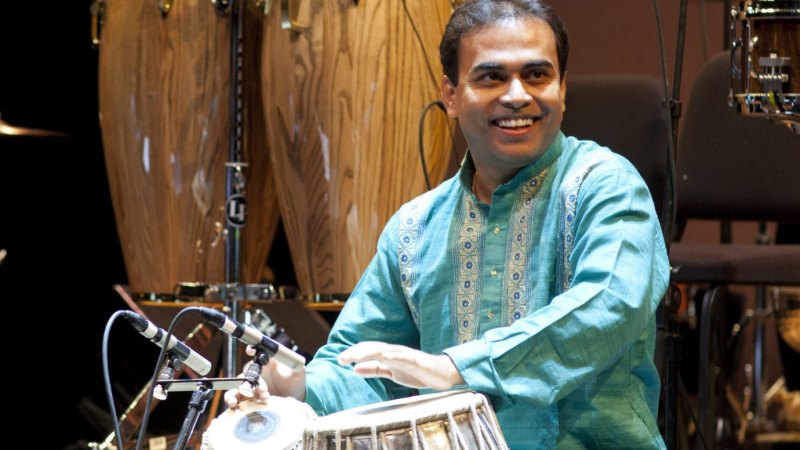 "As a 12-year-old kid the horse was not telling me anything," Das laughs. "My guru said, 'It is going, "taka-taka-taka-takate, taka-taka-taka-takate.' " And then he asked me to improvise with that sound…
"He had a beautiful saying: 'Initially when you practise, your goal is to turn your hands into swords – swords that could strike through anything. Keep practising and they should turn into streams, where the music flows out of your hands like a stream. In the third phase of a musician's life, the hands will turn into flowers.'"
When Das was 17, Maharaj​ took him to a concert he was playing with Shankar​, and only when they arrived told the teenager he was also playing. To the audience, Maharaj​ likened Das's​ situation to someone who has bought an airgun to shoot squirrels, and finds himself faced by two lions.
That analogy became even more apt when Shankar​ began a composition and rhythm cycle foreign to Das. "My guru looked at me with fire in his eyes," he says. "It was like, 'You play or you die now'. I jumped in head-first, and when I played my opening piece and people clapped, my guru looked at Ravi Shankar​ and Ravi Shankar​ gave him a big smile."
Thereafter, Shankar​ wanted to take Das on tour, but Maharaj​ insisted he wasn't ready. Ten years later, with Das now established at Indian music's pinnacle, he was dining in a Mumbai restaurant in the pre-mobile-phone era when a waiter brought him a call from Delhi. Puzzled as to how he had been tracked down, Das got a bigger shock when the voice on the other end introduced himself as Shankar​, and a marvellously rewarding collaboration began.
Perhaps his biggest scrape came in 2001 when he was asked to play the world premiere of a composition by Iranian Kayhan​ Kalhor​, with Ma and the New York Philharmonic under Kurt Mazur​. Das takes up the story at the first rehearsal, when a woman put a metal stand in front of him. "I said, 'What is that? It's blocking my view.' Before she could answer another woman put these pieces of paper on it, and I said, 'What are these?' And she said, 'That's your music.' I said, kind of scared, 'But I can't read music'.
"There was this big silence. They had flown this guy all the way from India for four concerts in two days' time who can't read music! I raised my hand and said, 'If you guys play it once, I should be able to memorise it'.
"I didn't know that you're not supposed to tell New York Philharmonic what to do. Again there was this huge silence, until Yo-Yo – who I didn't know at that time – stood up and said, 'Why don't we do what Sandeep​ is requesting'. I was like, 'Oh, my God, that must be the nicest guy on the planet'. So they played that 28-minute piece, and then I raised my hand like schoolboy, and said, 'I'm ready to play.' "
That collaboration led to Ma forming Silkroad​ Ensemble, playing music stretching from China to Europe. Often, as on this Australian visit, they now tour without Ma, but Das and his colleagues are proud to keep alive the flame he ignited.
Silkroad​ Ensemble: Concert Hall, March 9.