Although UQP was set up as a "traditional university publishing house" it began publishing fiction and poetry in the '70s and added children's books in the late '80s. For many years UQP published Peter Carey, culminating in his second Booker win with True History of the Kelly Gang, which then publisher Laurie Muller cranked out in a variety of editions.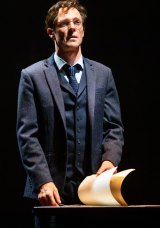 UQP still gets some funding from the university, but is also supported by Arts Queensland and the Australia Council. And while it no longer has funds from the university bookshop (see Bookmarks, February 23) , it does run the university's print-on-demand operation for short-run printing and also operates a custom-publishing business.
Last year Duffy did the Yale University Leadership in Publishing course and returned from the US full of optimism about UQP. "There are excellent opportunities for expansion in subsidiary rights such as audiobooks, film rights to streaming channels, speakers agencies for authors. And we are well placed to access the best research and thought leadership." She said UQP had long ago diversified its business to support its less profitable but culturally and academically important publishing. "Having an eye on the long-term, rather than frontlist publishing alone, has always been a priority for UQP."
And Duffy remains bullish about Australia's university presses. "I think it is a mistake to assume that the challenges in one university press means there is a crisis among university presses in general. Most of Australia's university presses are amongst the country's longest-standing publishing houses. We have endured great change over the decades in both academic and trade environments and have managed to be adaptable to shifting publishing climates."
Among the titles coming from UQP this year are Tony Birch's latest novel, The White Girl; Omar Sakr's poetry collection, The Lost Arabs; and Samia Khatun's Australianama, about cross-cultural interactions between South Asian migrants and Indigenous Australian people.
Egan on truth
There were optimistic words from PEN America president Jennifer Egan in the lead-up to the organisation's big awards night on Tuesday of this week in New York. Among those awards is the annual Freedom to Write that goes to writers or journalists imprisoned in order to silence them. Egan recognises that the award is an effective way of drawing attention to them and noted that of the past 42 writers who received the award, 37 were now free. She pointed out on CNN that things were changing. "I think we're seeing the end of an old order. Suppression of the truth just seems like an impossible and outdated approach. If you look at something like climate change, it's happening. You can deny it all you want, we can see it around us … I feel like the next phase is going to be an engagement with the truth and a responsiveness to it, rather than an effort to flatten it out and eliminate complex thought." Let's hope the award-winning novelist of Manhattan Beach and A Visit from the Goon Squad is right.
Readings at 50
On Tuesday, Melbourne bookshop Readings will celebrate its 50th birthday. The now seven-shop chain was set up by the late Ross Reading in 1969 in a small Lygon Street shop. Mark Rubbo, who ran a nearby record shop called Professor Longhair, bought it with his partners in 1976. In the years since, Rubbo has not only catered to thousands of booklovers, but also set up the Readings Foundation, which has given more than $1.2 million to various charities. One birthday present Readings will be getting is $2500 from Penguin Random House as a donation to the foundation.
Wait, there's more …
The latest iteration of the juggernaut that is J.K. Rowling's Harry Potter, Harry Potter and the Cursed Child, only opened on the stage of the Princess Theatre in Melbourne last Saturday – likely to remain there for several years – and already there is more to come. Only in book form though. Little, Brown announced this week that it will in September publish HPATCC: The Journey, a book that tells the story of the development of the play from its earliest days to its eventual triumphant realisation in 2016, a production that, in London, won masses of awards. It will be written by Jody Revenson.
NYRB doubles back
It's back to the future at The New York Review of Books, which has appointed two editors in their 30s, Emily Greenhouse and Gabriel Winslow-Yost, to replace Ian Burumma who resigned last year after he published an essay about the #MeToo movement by Jian Ghomeshi, who had been accused of sexually assaulting women. The NYRB was set up in 1963 by Robert Silvers and Barbara Epstein and jointly edited by them until Epstein died in 2006.
Jason Steger is Books Editor at The Age and The Sydney Morning Herald
Most Viewed in Entertainment
Loading