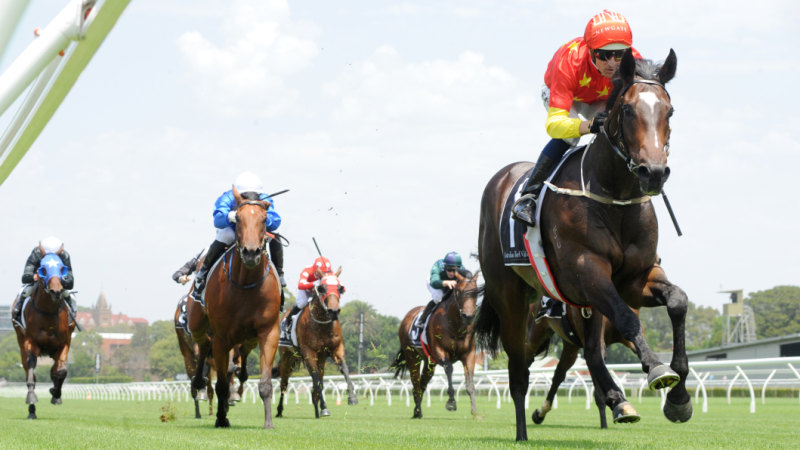 Unfortunately, the $180,000 he won then doesn't count when it comes to Golden Slipper entry – which uses prizemoney to decide who gets in.
It means Hightail needs to win the Black Opal to march on towards the Slipper.
"We've earmarked with him [for the Opal] all the way through," Snowden said.
"He went through the Magic Millions campaign and when you go through that it's a very gruelling preparation, very hot conditions.
"It's a matter of picking the right races to get him in.
Loading
"He won some prizemoney before he went up there and ran third in that, but you really need about $100,000-plus to make it to the Slipper.
"So with the prizemoney as good as it is in Canberra, one run in that race might be enough to get him into the field."
Hightail's an early $5 third-favourite for the Opal, with James Cummings' Bivouac the leading hope ($3).
Gai Waterhouse and Adrian Bott's Bellevue Hill ($4) is on the second line of betting, having won the Black Opal Preview convincingly to earn automatic entry.
Both Bivouac and Bellevue Hill were among 14 horses dual nominated for Sydney, although Cummings told The Canberra Times on Monday his horse was likely to run in the Opal.
There are only two local nominations – Neville Layt's Redicon ($51) and Keith Dryden and Scott Collings' Brennaman ($101).
Snowden rated his gelding's chances.
"His run in the Magic Millions was very good. Leading up to that race he raced three weeks in a row and he won at Randwick the start before that so he did a great job to finish where he did," he said.
"It proves he's a tough horse. He trialled very well some 10 days ago … so he's on track to run well Sunday."
Loading
Snowden has four other runners nominated for the Black Opal, but he could opt to keep them all in Sydney instead.
They've been dual nominated for either the Todman or Reisling stakes, which run at Randwick the day before the Opal.
Snowden said weather conditions and barrier draws will play a role in where those four – McLaren, Rome, Strasbourg and Wayupinthesky – eventually run.
He felt it was likely that McLaren would join Hightail in Canberra.
McLaren won the group 3 Canonbury Stakes (1100m) a month ago and also finished fourth to Time To Reign in the group 2 Silver Slipper (1100m) last Saturday.
"Weather will play a bit of an important role with one of them, a horse called McLaren, he definitely needs a good track," Snowden said.
"The likelihood of a good track is probably more towards Canberra than it is for Randwick. We're expecting some showers here in the next couple of days so if we happen to get them I definitely would take him to Canberra.
"Barrier draws and track conditions will play a role in which way we go with them."
Snowden also has Emperor's Way nominated for the listed Canberra Cup (2000m) and Snippets Land for the listed National Sprint (1400m).
The former's also a chance of running in the listed Randwick City Stakes (2000m), while Snippets Land is looking to improve on his third in last year's Sprint.
BLACK OPAL STAKES DAY
Sunday: Gates open 11.30am, with tickets available from Ticketek.
David Polkinghorne covers the Canberra Raiders, local rugby league, Canberra Cavalry, racing and cycling, along with every other sport, for The Canberra Times.