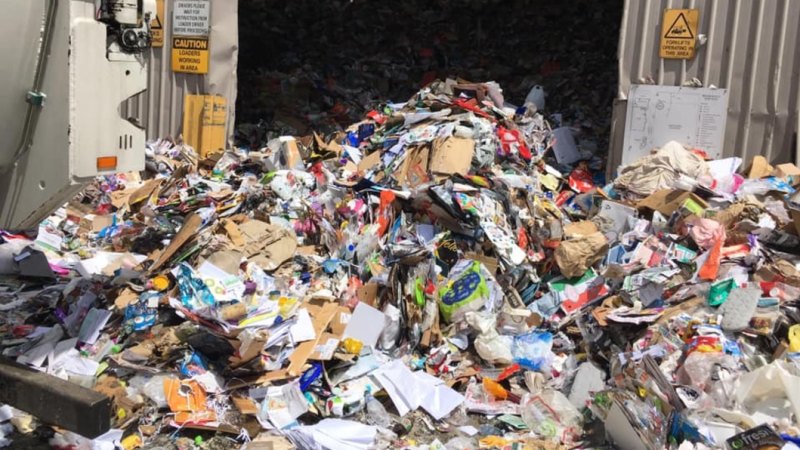 Loading
On Tuesday afternoon the EPA lifted its ban on SKM's Laverton North facility but the Coolaroo, Hallam and Geelong sites remain shut.
The EPA issued the bans on February 15 due to concerns that massive stockpiles of recyclable waste were an unacceptable fire risk, plunging the recycling industry into crisis.
SKM had been responsible for accepting almost half of Melbourne's recyclable waste until it received the bans. It closed the Hallam and Geelong sites voluntarily as concerns of stockpiling mounted.
The company has a week to notify the EPA how it complied with the requirements of the clean-up notice.
A source close to SKM said the company had been busily processing recycling material on the Laverton North site allowing it to clear some of the stockpiles and meet safety regulations.
He said the company had been forced to take some contaminated recyclable waste to landfill but the amounts were in line with usual practice.
The source said a processing line at one of its sites had been forced offline for three days after a car part dumped in a recycling bin got caught in processing machinery.
In response to the SKM bans, some councils have been forced to spend thousands of dollars dumping huge amounts of recyclable household waste in landfill.
Last week the EPA also laid charges against SKM in the Magistrates Court over a July 2017 fire at the company's Coolaroo site.
The fire sent plumes of toxic smoke across Melbourne's north and forced residents from their homes.
SKM has not responded to repeated requests for comment from The Age.
EPA chief executive Cathy Wilkinson said the company's Coolaroo site remained "non-compliant" and would not be allowed to accept waste until it met the conditions laid out in the initial bans.
"The closure of the SKM sites was a decision taken to protect the community from the risk of a major fire," Dr Wilkinson said. "EPA will not allow a repeat of the 2017 Coolaroo fire."
The City of Port Phillip confirmed it would resume sending recyclables for processing on Wednesday after diverting 658 tonnes to landfill at a cost of $79,000.
Mayor Dick Gross said it had been a "frustrating time for everyone" but the council would be reimbursed for the money it had spent.
"While we welcome the re-opening of SKM's Laverton North plant, much more must be done to future proof the recycling industry by all tiers of government," he said.
Environment Minister Lily D'Ambrosio said the latest development was a step in the right direction but SKM needed to continue with compliance efforts until all sites were again accepting waste.
"The EPA will be monitoring SKM daily to make sure they continue to do the right thing and I hope this demonstrates to all in the recycling industry that we will not tolerate dangerous stockpiling," she said.
Benjamin is a state political reporter