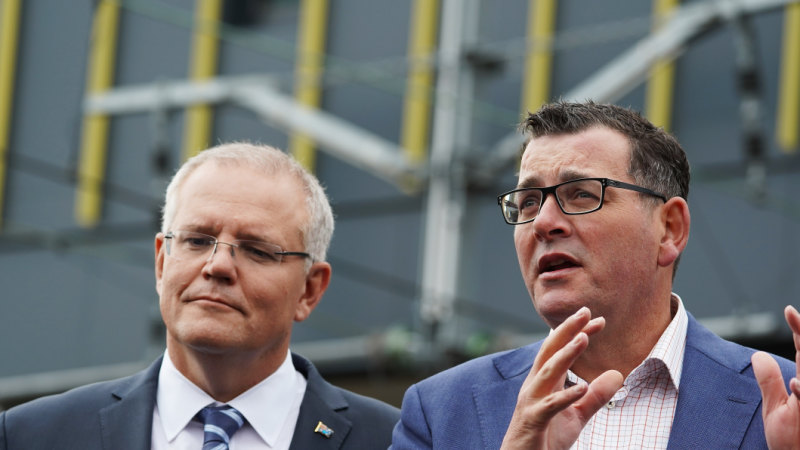 Loading
But Andrews has mastered the trick. His election campaign last year, based on his record of building things, gave him a landslide victory. Other politicians notice things like that.
So Morrison, not exactly political soul-mates with Andrews, was happy to pose on Wednesday with the nation's leftiest premier and just you wait until Bill Shorten and Anthony Albanese get started. It's gonna get cringey.
Everybody wants a piece of Andrews because what he and his colleagues have done in Victoria is not easy, especially after they started out paying a billion bucks to not build a road.
It's not enough to announce projects, Andrews might advise, although announcements are important. Not enough to fund them or even to start them.
No, some things have to be finished, built, opened, running before you go and face the infrastructure-hungry voters. Not everything, not even most things. But some things need to be done and dusted. Think level crossing removals, the Mernda railway line, or the Tulla Freeway widening.
Then you can promise a $90 billion rail loop around the city without being laughed out of town.
And you don't put up so much as a porta-dunny on a building site without a big press conference. Victorian Labor's ability to get Andrews and his ministers on the news every night in hard hats and hi-vis is uncanny.
Morrison, and Malcolm Turnbull before him, have splashed infrastructure money but the emphasis on building things with the states took off a little late in the political cycle, in last year's budget.
Even so, the Coalition was making progress being seen as infrastructure builders until August's leadership change halted momentum.
Nor were Andrews and his colleagues exactly keen to share the limelight as they pitched for re-election.
But Wednesday's joint announcement is a lot more like it from Morrison and his team.
Makes you wonder whose playbook they've been studying.