"The transition to a low-carbon economy won't be easy and won't be cost free, but it has to be done," he said. "We support the [shift] to a net-zero emissions economy by 2050 and note that we must have a national policy roadmap with interim targets and sector specific strategies to get us there."
Loading
The RBA's public stance moved it in line with the Australian Prudential Regulation Authority and the Australian Securities and Investments Commission, "completing the trifecta" of regulators, Emma Herd, chief of the Investor Group on Climate Change said.
"[They are all] saying climate change is a material financial and economic risk that has to be managed using the same legislative and regulatory system that we use for any other risk," Ms Herd said.
"For [the RBA] to be talking about climate change as a core consideration and then signalling 'more work to be done' is hugely significant for Australian business."
The financial sector has been at the forefront of increasing investor sensitivity to climate risks in part because their assets – such as housing loans – are more exposed to extreme weather.
The threat of future carbon costs for emissions and legal action has also made investors more wary of locking in investment in long-lived assets such as coal-fired power plants.
"Across the industry, Australia's banks have actively considered the risk of climate change and taken action to minimise the carbon footprint of their business and report any associated business risks to shareholders, customers and the general public," Anna Bligh, chief executive of the Australian Banking Association, said.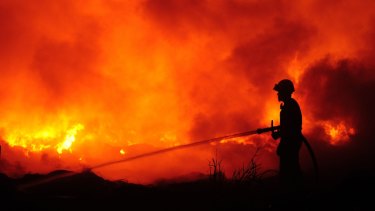 Tim Buckley, a coal analyst with the Institute for Energy Economics and Financial Analysis, said the speech was an "important milestone" that recognised climate as a "key systemic financial risk".
However, while noting the effect changing demand for fossil fuels in China and India would have on our nation's economy, Dr Debelle left out Japan despite its dominant share – at 44 per cent – of Australia's thermal coal exports.
"This omission is a key issue…given the string of recent announcements of thermal coal and power plant exits" by seven major Japanese groups including Marubeni and Mitsubishi, Mr Buckley said.  "Australia's top customer is really starting to move."
Kane Thornton, Clean Energy Council chief executive, said Dr Debelle was "simply highlighting something that most industries are already taking seriously – the worsening effects of climate change and the need for businesses to manage this risk as part of their activities".
Nick is a journalist for The Sydney Morning Herald.
Peter Hannam writes on environment issues for The Sydney Morning Herald and The Age.
Most Viewed in Environment
Loading