"There are some great bargains to be had," he said.
Murray Wilton, the show's general manager, said the testing day was his favourite day of the show's program. "We love it, and we want you to enjoy yourselves," Mr Wilton told the assembled testers.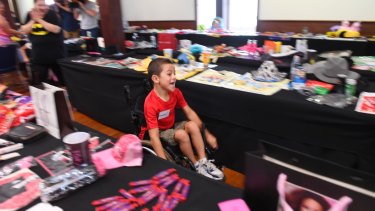 "You are surrounded by hundreds and hundreds of showbags. There are 358 showbags at the show this year. You're going to have the opportunity to test them, so you're very important to us. We need you to test out the contents and show us what's inside."
The children wasted no time following Mr Wilton's instructions, racing to their favourite showbags.
A bag containing a quadrocopter, which usually costs $30, was collected.
But Euan, aged nine, claimed a swag of fearsome toys: including a Freddy Krueger claw hand and a sword. But it was the Nerf blaster that came with his showbag that swayed Euan to pick his haul.
"It fires four shots," he said.
The Royal Easter Show runs from April 12 to 23.
Pick of the pack
Hatchimals – $28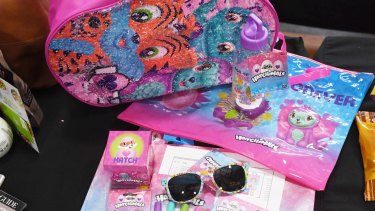 Hatchimals are small, collectible robotic toys that emerge from eggs and 'grow', changing features over time. They are a toy of the moment, suited to having their development recorded and watched on Youtube – a key driver in toy consumption.
Chupa Chups – $10
The Chupa Chups mega bag does nothing more or less than it says it will: deliver an enormous amount of lollies. One for the purists.
Mega Bag – $30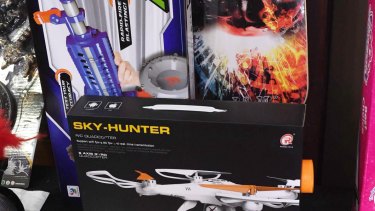 The Mega bag comes with a choice of novelties, with options including a quadrocopter, longboard and Nerf gun. But it won't leave the purchaser hungry. There are also dozens of sour lollies inside.
MKR – $25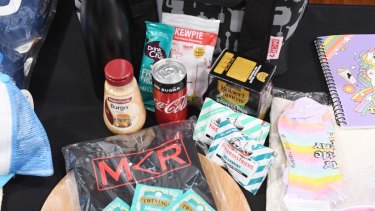 The My Kitchen Rules bag might disappoint pint-sized showgoers with its offering of condiments and mints, but could be a hit with tired parents looking to squeeze in some shopping at the show.
Gudetama – $30
Gudetama is, of course, a small anthropomorphised egg yolk. The character was created by Sanrio, the Japanese company behind Hello Kitty. The character is lazy, cute and appears in its own series of animated videos. Although originally a Japanese phenomenon, the character is increasingly popular in the West.
Nick is a journalist for The Sydney Morning Herald.