August 2016: Borce Ristevski tells police that he had driven his wife's 2004 Mercedes-Benz coupe on the day she disappeared to test a faulty fuel gauge. He says the car hit a bump in the road and the problem fixed itself, so he turned around and returned home. A court later hears the car did, indeed, have a faulty fuel gage. Ristevski initially denied he'd driven his wife's car that day which prompts Uber to investigate whether he accepted a job driving for the ride-sharing service that afternoon.
Overseas flight to life of luxury
August 2016: Borce Ristevski's brother Vasko Ristevski claims his sister-in-law is alive and well after fleeing overseas to China or the US using a fake passport. "I reckon she's run away. That's my feeling, what with all the rumours going on," he says. "I don't think she'll come back, I reckon she's gone for good." This claim is later ridiculed by other family members including Karen's sister.
Evil stranger took my wife
August 29, 2016: Ristevski tells family Karen may have been abducted by a stranger during a random attack. The theory surfaces at the same time as claims that he'd allegedly discussed borrowing money from his father-in-law to settle a debt just days before his wife disappears. A woman later claims she was accosted by a strange man on the footpath behind the Ristevski house.
The psychic and the burnt-out restaurant 
December 2016: Vasko Ristevski attends a burnt-out restaurant after being urged to by a psychic, according to reports. The restaurant is also searched by police. The site, north-west of Melbourne, is not far from where Karen's body is eventually found. Vasko is spotted by a TV crew in June 2017 in bush near where his sister-in-law's body was discovered four months earlier.
Two people involved
May 29, 2017: An FBI-trained criminal profiler suggests two people were involved in the disposal of Karen's body due to the physical exertion required. Her body was found 50 metres from the nearest place to park. The profiler says those involved would have had prior knowledge of the grave site.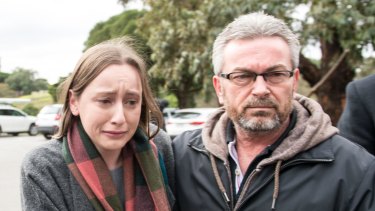 The sex games
December 2017: A former partner of Ristevski says detectives have quizzed her about her ex's sexual fantasies and whether he ever displayed any signs of violence during sex. She says she is also questioned over whether her former partner had a temper.
Erin covers crime for The Age. Most recently she was a police reporter at the Geelong Advertiser.
Liam is The Age and Sydney Morning Herald's science reporter