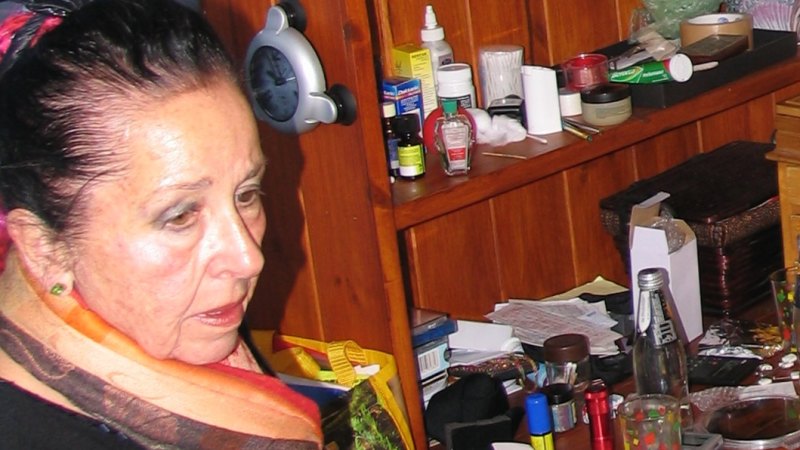 Artist and Archibald Prize finalist Mrs Beowulf, 61, her two sons Thorsten, 32, and Bjorn, 31, have pleaded not guilty to the murder of Mrs Panin on October 12, 2015.
Earlier this week the court heard the triple 0 call from the Red Hill home reporting Mrs Panin's death.
A distressed sounding Mrs Beowulf told the emergency call taker the woman was not breathing.
When asked if she could perform CPR, Mrs Beowulf replies: "She's dead, completely dead.
"I don't know how long she's been there."
On Thursday, the court heard evidence from the first police officers to the scene and the ambulance officers, who described arriving to a crying and upset Mrs Beowulf.
Detective senior Constable Carly Neilson said she went to the back of the house and noticed a pool of blood under the woman's head.
She also noticed bird netting, bricks and rolls of plastic sheeting in the area, the woman's glasses just under her chin and the right lens missing.
She checked the house for any signs of a break in, and described the rooms as being in a general state of disarray but also organised chaos, and that there were boxes lined up at the front door.
Questioned by prosecutor Margaret Jones, the detective said she didn't see any blood elsewhere around Mrs Panin's body, not on the steps, landing or railing.
Another police officer told the court how the day after the death he had a phone call from the family's solicitor who wanted to report recent dealings with Mrs Panin and Mrs Beowulf.
Senior first Constable Paul Calatzis said the solicitor told him how Mrs Panin had assets worth some $2 million and she had that year restricted Mrs Beowulf's power of attorney over her affairs.
The solicitor also said Mrs Panin was changing her will to make Mrs Beowulf not the primary beneficiary.
Constable Calatzis said the next contact he had with the case was when the coroner asked him to clarify the timeline with Mrs Beowulf in November.
He said he rang Mrs Beowulf and she told him they had left home around 2pm and when they returned they called out for Mrs Panin but did not get a response.
The court heard that when first speaking to the family at the scene they had told police they left the home around 10am.
Both officers said they did not search the police database PROMIS at that time.
But the court has heard that Mrs Panin had gone to police in September a month before her death complaining of a threat from Mrs Beowulf.
The trial continues.
Alexandra Back is a reporter with The Canberra Times