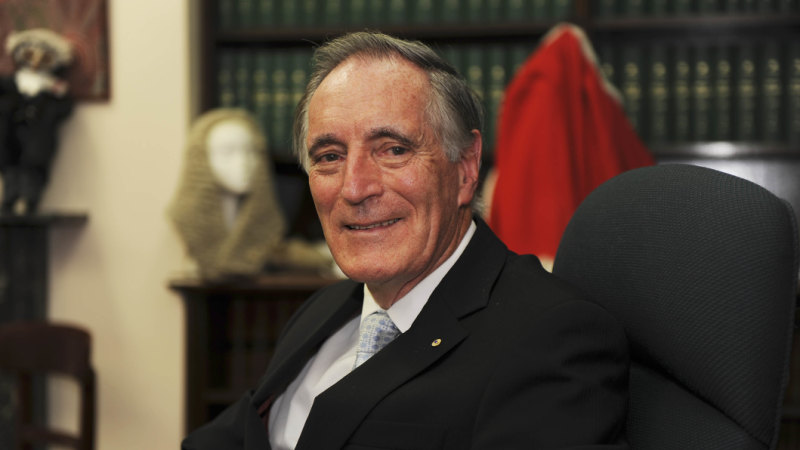 Justice Vincent said judges' concern about the impact of media reports on the objectivity of jurors demonstrated a lack of faith in them.
"It works on the assumption that you cannot trust people to act impartially as jurors if they possess that kind of information, and I don't accept that."
Loading
Judge Vincent said fear the media may misreport a story, or unfavourably report a decision handed down by a judge, had led to the bench approving suppression orders too readily.
"There was no doubt that the courts were very sensitive to the criticisms being made of the work that was being done … and I think that led to an unnecessary making of orders," he said in an address at the University of Melbourne after Pell was sentenced on Wednesday.
"It doesn't matter if you're a judge, you don't like being criticised."
The Open Courts Act, which in 2013 was passed by Parliament to make court proceedings more transparent and reduce the number of orders, said Justice Vincent, "didn't work".
Following Pell's conviction in December, Australians were unable to learn via local media that he had been found guilty until a suppression order was lifted in February.
The Age, which did not name Pell, was put on notice for reporting a ''high-profile figure'' had been convicted of a serious crime.
However, Pell's guilty verdict had been reported by major international publications, including The Washington Post, and in Catholic newsletters. It also went viral on social media, becoming the No.1 trending topic on Twitter in Australia.
The DPP last month sent more than 100 letters to reporters, editors and media organisations indicating journalists were likely to be prosecuted for breaching the Pell suppression order, sub judice contempt, scandalising the court and aiding and abetting contempts by overseas media.
In his report, Justice Vincent said even if media organisations were gagged by suppression orders, nothing could prevent cases from being canvassed on social media, blogs and foreign news sites accessible in Victoria and a "real-world" approach was required.
Despite the principles of transparent justice enshrined in the Open Courts Act, Victorian judges were "troublingly" issuing as many suppression orders as they ever were.
Justice Vincent found that of the 1594 suppression orders made between 2014 and 2016, 22 per cent were blanket bans that either failed to say what was being suppressed or simply stated that the "whole or any part of the proceeding" could be not be reported. A further 12 per cent did not give any grounds at all.
The report made 18 recommendations, none of which had been acted on in the 18 months following the report's delivery. The morning of The Age's report following the Pell verdict the Andrews government committed to implementing most of the recommendations this term.
David Estcourt works for The Age and The Sydney Morning Herald.