The Victorian coalition went to last year's election promising to build the project but was soundly defeated, suffering big swings in eastern suburban electorates the road would service.
Mr Andrews confirmed soon after Labor's thumping election win in November that the project – a toll road running between the Eastern Freeway in Clifton Hill and the Western Ring Road in Sunshine West – remained firmly off his government's agenda.
A 2014 business case for the road found it was an economically wasteful project that would have produced 45 cents in benefits for every dollar spent on it.
Mr Shorten said on Thursday that the Morrison government should "climb down off their high horse and free up some infrastructure money for Victorians and Melburnians in a way which has been voted on at the state election".
"This government has locked away money for a road project which isn't going to happen in the foreseeable future according to the Andrews government," Mr Shorten said.
"So I just think that's the ultimate in … pettiness."
Prime Minister Scott Morrison confirmed on Wednesday – while committing $5 billion of federal funds to the Melbourne Airport rail link – that the Commonwealth had no plan to redirect its East West Link billions.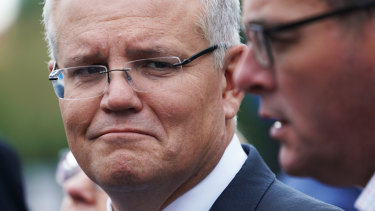 "Our commitment to that project remains at it is, but as we go forward to the next budget, I can assure you that Victoria will be well addressed in terms of its infrastructure needs," Mr Morrison said.
Federal advisory body Infrastructure Australia also has not given up on the project.
A connection between the Eastern Freeway and CityLink is a high-priority initiative that will be needed within the next five to 10 years, it said in a report last month.
But Mr Shorten said on Thursday he would "talk with Dan Andrews about the best use of that" $3 billion.
Former prime minister Tony Abbott initially locked the $3 billion away, stating in 2015 that the Andrews government was "dead" for its decision to scrap the road.
Victorian Treasurer Tim Pallas has previously called on the Morrison government to redirect the East West Link funds to the North East Link.
At a cost of $15.8 billion, the planned North East Link between the end of the ring road in Greensborough and the Eastern Freeway in Bulleen is easily the most expensive road project in the state's history.
The Morrison government has already committed $1.75 billion to the road, which is out to tender and is expected to open in 2027.
Victoria is doubling its debt level from six per cent to 12 per cent of gross state product and borrowing $25 billion to pay for the North East Link as well as two of its other signature transport projects.
State Political Correspondent for The Age