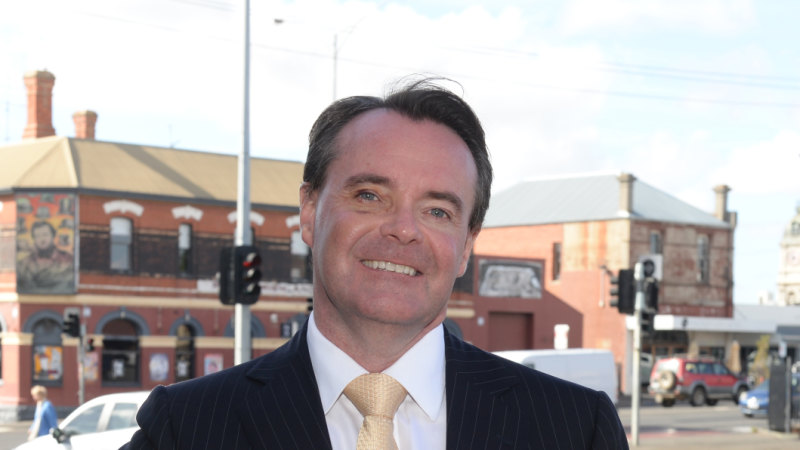 For one thing, the man who held his seat of Malvern in November despite a swing of more than 10 per cent against him, thinks that Andrews' landslide success may have already gone to the Premier's head.
O'Brien points to Labor's recent abolition of four key parliamentary committees, which he says are crucial to the scrutiny of government, as evidence that the Premier and his colleagues think they are above accountability.
"One of the first priorities of Daniel Andrews, having been re-elected, was to abolish four parliamentary committees that could have investigated his government, to make it harder for the corruption watchdog to hold public hearings and to try to give some of his own favoured Labor MPs significant pay rises," O'Brien says.
"That's not the actions of a premier who feels humbled by the election result, they're the actions of a premier and a government who feel emboldened by the election result to look after themselves at the expense of Victorians."
Premiers can have big majorities but still bite the dust earlier than expected, O'Brien argues, pointing to the crash-and-burn Newman government in Queensland, so expect to see the Victorian opposition trying at every opportunity in the coming years to paint Andrews' outfit as "arrogant".
"It concerns me from a democratic point of view that we have a government with almost absolute power and we know what absolute power brings," the Opposition Leader says.
"So we have a toxic cocktail of power and arrogance and my job, as Opposition Leader, is to do the best I can with the resources we have to hold the government to account and to put out a better alternative."
Attacking governments is what oppositions do, of course, and Guy made "the mongrel" central to his bid for victory in November that came to such grief, so how is an O'Brien-led opposition going to differ from what has come before?
The new leader won't step across the line into criticism of his predecessor, but indicates that we can expect a less-angry effort in this new term of opposition.
"At the last election, a lot of Victorians would have been familiar with what the Liberal Party was opposed to," O'Brien says.
"I don't know if they were that familiar with what we were for.
"I call it light and shade, yes we will be holding Labor accountable, yes we will be pointing out their mistakes, their flaws.
"But I also want to offer people an alternative, I want to offer them a positive alternative, for voting for a Liberal government in 2022 will deliver."
Guy led a united and disciplined parliamentary team for his four years in charge, but his efforts were persistently undermined by squabbling in the organisational wing of the party.
An internal power-play by a hard-right religious grouping was a consistent source of instability and the party's legal stoush with its biggest funding source, leading to a climactic court battle just months out from the election, is blamed by many for fatally damaging Liberal hopes in November.
But already the party internals are looking better for O'Brien than they ever did for Guy.
Some of the more troublesome hardliners have left their positions and the key posts of state director and state president have recently been filled by figures much more sympathetic to the O'Brien project.
"There's been a lot of changes made since the election," O'Brien says.
"I've made it clear I don't want to spend any time, waste any time, talking about party branch issues.
"The party organisation should be like a footy club board of directors, they should be seen and not heard.
"What we need is for the party organisation to understand that their issues need to be dealt with internally because it's the MPs who are the ones who are elected to fly the flag in public.
"They don't decide policy, MPs decide policy in the Liberal Party, not the party organisation.
"There is no one that I would rather work with as party president than [former attorney-general] Robert Clark, an outstanding individual.
"You look up integrity in the dictionary, there's a picture of Clarky.
"To have him as president working with me is something I am delighted by and it gives me a lot of confidence."
O'Brien has one more reason to suspect that things might begin to go his way politically, predicting an end to the free-spending ways that have won Andrews so many friends.
"Victorians want to see governments that deliver and to some extent, Andrews made a virtue out of a few projects that he got done in the past four years," O'Brien says.
Loading
"He's made a lot of promises to people, but as we've seen from the way the property market is going and the way that stamp duty revenue is going, the man is going from Santa Claus to the Christmas grinch."
The Opposition Leader believes Labor's stewardship of the state's budget and economy will be subject to a blowtorch in the coming years in ways that Andrews and his Treasurer, Tim Pallas, are not accustomed to.
"The fact that we're the highest-taxing, the highest-taxed state in Australia, which we weren't five years ago," the Liberal Leader says.
"I think that will become a more important issue because it plays into people's cost of living.
"We're facing tougher financial times in this term.
"It's not hard to spend money when the money is there. What's hard is delivering when the money dries up.
"All the signs are there in the property market, we're already seeing some of the wage issues coming to a head in the public sector and people who thought Labor were these generous benefactors are now told to expect under-inflation wage increases."
Noel Towell is State Political Editor for The Age