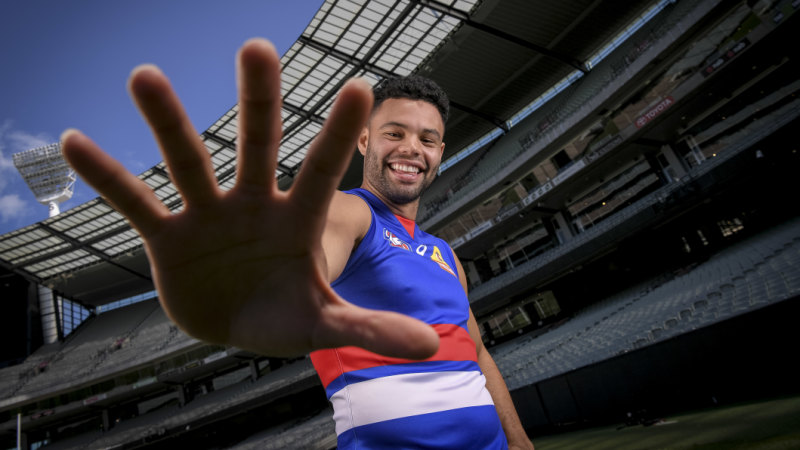 The good news for Bulldogs fans is that Johanissen expects to return soon from an ankle injury suffered at training in early February.
The 2016 Norm Smith Medallist resumed running last week and his return date is dependent only on how quickly he feels confident in his ability to run out a match.
"I am looking at round two or three to return," Johanissen said.
Having watched on from the sidelines he suspects the Bulldogs can have a much better season in 2019 if they can improve their ball movement, which was below par in the JLT Community Series.
"We turned the ball over quite a lot in the JLT series so building that and our chemistry up forward is going to be important," Johannisen said.
"The buzz around the locker room is really high."
Loading
Another reason the buzz has increased is the return of livewire Tom Liberatore, the hard ball winner sorely missed last season after hurting his ACL for a second time in round one.
The 26-year-old played a significant role in the 2016 premiership and he has a point to prove, signing a one-year deal in 2019.
"You stand taller when 'Libba' is in the side. I think it is great for the team that he is back," Johanissen said.
"He brings that grunt and contested footy and he has gone to work a bit more on his forward craft trying to add some strings to his bow by kicking some goals as a midfielder, which he hasn't in the past."
Liberatore is one of 14 players from the 2016 premiership team still at the club but a maximum of 10 will be in the side in round one. Such turnover is not unusual with only 12 of the Hawks 2015 premiership still at the Hawks.
Johanissen knows things have changed and is not dwelling on the past but as he stood on the MCG during captains' day standing in for Easton Wood he couldn't help to be reminded of his greatest footballing moment.
And he wants to feel that way again, confident he can now lead the club into a new era.
"Stepping on the MCG you have in the back of your mind what you have been able to achieve," Johannisen said.
"The hunger is definitely there. I feel like I can play some really good footy for the team and have a big impact."