Fadil testified at the 2012 trial of Berlusconi, who was accused of paying for sex with an underage prostitute.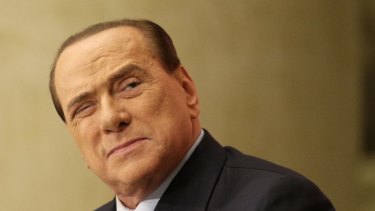 She told the court one of the parties at the media magnate's home involved young women, sometimes in pairs, wearing nun's costumes and stripping off while performing raunchy pole dances.
"They started to dance like the nuns of the film Sister Act, and then they took off their clothes," she said. At another party, a woman in her underwear stripped for Berlusconi wearing a mask with the face of footballer Ronaldinho, she said.
The 81-year-old was forced out of office in 2011 amid an economic crisis and the scandal surrounding the "bunga bunga" parties.
He was initially convicted in the case but ultimately acquitted after a judge ruled he could not have known the underage prostitute was in fact a minor.
However, magistrates subsequently laid new charges against Berlusconi and other defendants, accusing them of bribing some of the women who attended the parties to keep them from telling the truth at the initial trial.
Loading
They have denied the accusations.
Fadil was never accused of taking bribes. Italian newspapers reported that she was writing a book about her experiences and that the magistrates had obtained a copy of the manuscript following her death.
Berlusconi will once again be eligible for public office this year, having served out six-year sentence for tax fraud– commuted to community service on account of his age. He has reportedly indicated he might run for European Parliament elections due in May. He is president of Forza Italia, the party he founded.
A feature film, Loro, directed by Paolo Sorrentino, is the latest to depict the life of the controversial media tycoon and four-time prime minister.
Reuters