It was Stewart's second game for the Waratahs Women and her first try in Super W, an early birthday present for the exciting young winger who only took up rugby last year.
The 19-year-old's father Grant was a No.8 in the Newcastle competition but his second-born resisted rugby for as long as she could – pursuing touch football, netball, swimming, nippers – anything – before her inner "mongrel" found its natural home in rugby.
After impressing for the University of New England Lions in the Aon Uni 7s over the summer, Stewart was brought into the Waratahs' Super W squad and now has her eye on a professional sevens contract.
"This is massive for me," she said after her side's victory over Queensland.
"It's good to have those experienced players helping the young ones like me. I only debuted last week so it was great to have them talking to me out there, making me feel safe and secure and comfortable."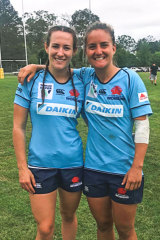 NSW coach Matt Evrard says the sky is the limit for Stewart if she works hard this year. Greater investment from Rugby Australia and NSW Rugby means the country's top players can play virtually year-round in Super W, club competitions, the Test season, National Rugby Championship and the Aon Uni7s, not to mention the professional sevens circuit.
"[Stewart] was absolutely outstanding in that competition (Aon 7s), when she's got that much time and space, she's extremely quick. She's a good size for a winger too and can defend quite well. She's a great prospect for us down the line," Evrard said.
"As soon as she builds her confidence, I can't wait to see her have crack. It was really good to see her get that try against Queensland, it will have done a huge amount for her confidence."
The defending champions have the chance to sew up a home final with a win against Rugby WA in Perth on Sunday. The West Australians will not be a walk in the park, and NSW are desperate to build some momentum after a stop-start first three rounds.
"We haven't got going yet as a team, that's been really frustrating," Evrard said.
"We had a trial, then we had two weeks off, then we played, then had a week off. When you get limited game time you just want to get a roll on and build into your attack. We haven't had that opportunity yet. Those girls are just pumped for the next two weeks."
Super W round four Waratahs vs RugbyWA, March 17 6.30pm AEDT, Curtin University, Perth.
RugbyWA Women: Mhicca Carter, Claudia Neilson, Ariana Hira-Herangi, Huia Swannell, Dallys Tini, Trilleen Pomare, Zion Taurima, Katherine Outred, Tara Reed (c), Hera Barb Malcom-Heke, Rebecca Clough, Kateraina Ahipene, Terehia Cooper, Darryl Wickliffe, Brooke Mason. Res: Ash Temple, Sera Ah-Sam, Raewyn Tuheke, Claudia Foster, Taylor Waterson, Caitlin Burt-Poloai, Katie Barnes, Tui Cope.
Waratahs Women: Ash Hewson (c), Maya Stewart, Crystal Maguire, Katrina Barker, Shanice Parker, Chloe Leaupepe, Iliseva Batibasaga, Grace Hamilton, Emily Chancellor, Alexandra Sulusi, Sera Naiqama, Noella Green, Evelyn Horomia, Tasmin Sheppard, Emily Robinson. Res: Melissa Fatu, Loretta Mailangi, Asoiva Karpani, Jemima Henry, Pareake O'Brien, Arabella McKenzie, Kennedy Cherrington, Kirrily Laws.