An Australian Federal Police spokeswoman confirmed "the man was not known to police in Australia for violent extremism or serious criminal behaviour".
Asked if the former body-builder and personal trainer should have been on a watch list, Ms Ardern said that was the same question she was asking.
"This individual should have been someone that the authorities were aware of and were proactively already focused on," she said. "Those are the exact questions that we have asked and that the agencies are working on."
Prime Minister Scott Morrison said Mr Tarrant was on "nobody's radar, anywhere".
"This is the real challenge when it comes to issues of terrorism. That's why we need to continue to be vigilant in this area. But there are no guarantees and protections. Hatred and intolerance will seek to work its evil wherever it can."
Mr Tarrant was immersed in far-right online message boards, posting a manifesto on 8chan before he carried out the attacks, a website that describes itself as the "darkest reaches of the internet".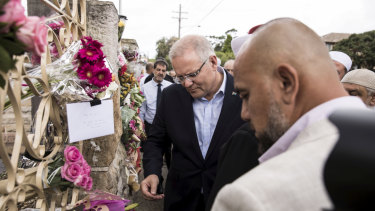 He invested in bitcoin and travelled extensively including to North Korea and Pakistan. Mr Tarrant evaded the notice of both Australian and NZ authorities when he moved to the southern city of Dunedin some time before planning Friday's attack.
"The individual in question was not on a New Zealand watch list, so that should give you an indication of the level of surveillance there," said Ms Ardern.
"Any indications, posting communication that should have led to a response from New Zealand agencies, they are exactly the questions that need to be answered."
She said NZ authorities "were live" to the growth of violent right-wing extremist groups in NZ and abroad but that had not led to the suspect coming to the awareness of NZ agencies.
Mr Morrison said Australia was providing "significant assistance to the police investigation".
"This reaches well beyond the borders of both New Zealand and Australia, and we're providing that support."
He said the views of white supremacists "were not new" and "sadly had existed in Australia for hundreds of years" with police and intelligence work in the area flying under the radar.
"These have always constituted a threat. There has always been an investment to ensure there's a capability to address that element of the terrorist threat in Australia," he said.
"It hasn't had a lot of public commentary either in the media or elsewhere but that doesn't mean it doesn't happen."
The AFP confirmed the NSW joint Counter-Terrorism Team has begun an Australian-based investigation to assist New Zealand police.
Home Affairs Minister Peter Dutton has been contacted for comment.
Eryk Bagshaw is an economics correspondent for The Sydney Morning Herald and The Age.