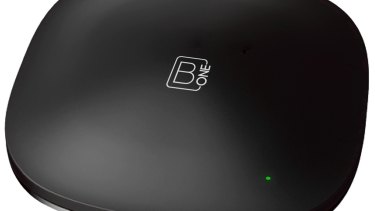 These hubs work with split systems, which typically come with an infrared remote, but not with central heating/cooling as these systems tend to rely on a wall controller rather than a handheld remote.
The biggest difference between these two is that the Sensibo Sky is only designed to work with heaters and coolers, whereas the B.One Eazy can control lots of other Wi-Fi and infrared devices around your home such as your television. The trade-off is that the Sensibo Sky has a few extra tricks up its sleeve to help you keep your cool.
VERDICT
If you're only interested in controlling your airconditioning then the Sensibo Sky is the better option, especially if other people in your home use the handheld infrared remote so you need to keep track of the airconditioning's status. If you're not worried about this, then the B.One Eazy's ability to control a wide range of devices, and make use of more sensors, might make it a better fit for your smart home.
SENSIBO SKY, $159
Like the Eazy, the Sky can link to a smart speaker so you can control your airconditioning by talking to Google Assistant or Alexa (Siri misses out). Unlike the Eazy, the Sky can keep track commands from your airconditioning's infrared remote. This means the Sensibo app knows if someone else has switched the airconditioning on or off while you're away from home (although this feature can be a little temperamental).
B.ONE EAZY, $88
Both hubs are easy to set up, but the Eazy had less trouble identifying and controlling our split system – although your mileage may vary here. While the Sky features built-in temperature and humidity sensors, the Eazy forgoes the latter in favour of a light sensor. It can also tap into cameras and motion sensors around your home. Access to extra sensors, along with the ability to control a range of infrared and Wi-Fi devices, makes the Eazy a more versatile smart home companion.
CHECK THIS OUT
If you have a central heating/cooling system which can be controlled via a smartphone app, you might also be able to control it by talking to Google Assistant or Amazon Alexa on a smart speaker. In the Google Home app, go to the Google Assistant setting then choose More Settings, Assistant, Home Control and + to add a device, then search for your brand of heating/cooling. In the Amazon Alexa app, choose the pop-out menu at the top left and Skills & Games, then search for your brand of heating/cooling.
Most Viewed in Entertainment
Loading