Severe thunderstorms, which are likely to produce heavy rain and may lead to flash flooding, damaging winds and large hail were expected to hit Warwick, Stanthorpe, Inglewood, Allora, Clifton and Pittsworth.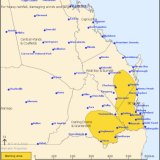 Overnight, 54 millimetres of rain were recorded in Brisbane in the 24 hours to 9am.
People are advised to move their car under cover or away from trees, seek shelter and never drive, walk or ride through flooded streets.
Brisbane is forecast to receive showers and possible storms every day this week, with maximum temperatures in the low 30s, until Saturday, which is expected to be mostly sunny.