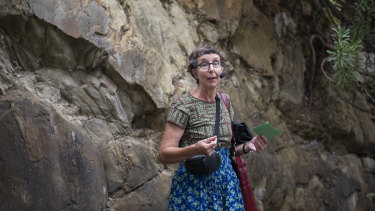 Other cinematic highlights abounded. Ron Fricke's wordless documentary Baraka was accompanied by a new original score from Dylan Martorell. With the music played live by scores of robotic arms, the event – part of a live music and film project called Hear My Eyes – created a global orchestra of instruments that roved from percussive majesty to serene ambient.
Loading
And you couldn't go past Terror Nullius, Soda Jerk's brilliant mash-up of iconic Australian screen culture. Recombining everything from '70s Ozploitation and Z-grade horror to classics such as Picnic at Hanging Rock and Mad Max, this ingeniously arranged bricolage satirised the unspoken wounds of Australia's post-colonial legacy with a sharpness that put Mick Dundee's knife to shame (and there were audible cheers when he got his comeuppance at last).
Classical music fans were rewarded by Italian harp virtuoso Floraleda Sacchi giving her first concert in Australia; her repertoire gave fullest sense of the classical harp's versatility and affective range. She roved from the romantic simplicity of her own compositions – homages to the Tuscan coast – to the inspired storminess of the Philip Glass opera Satyagraha; from Icelandic composer Olafur Arnalds to the glorious extended technique required by Nils Frahm and Roberto Cacciapaglia, approaching her instrument almost as a wild creature to be tamed, or a child to be tickled into exhaustion.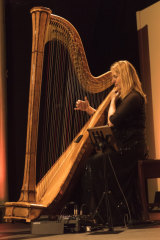 The visual arts program was extensive and seemed to spring organically from every nook and cranny of Castlemaine and its surrounds. You could spend a contented day or two exploring it all, but two stood out from my brief odyssey.
Damien Shen and Robert Hague's installation probed physical difference and the limitations of science. With one artist of Indigenous Australian and Chinese origin, the other a migrant New Zealander of English and Irish extraction, viewers moved through a fragmented labyrinth of scientific self-portraits: X-rays, DNA comparisons, lithotypes and casts moulded from body parts.
And the disturbing comic genius of Dale Cox's art hoax – which exhibited Disney characters "discovered by archaeologists" in Chinese terracotta and porcelain, complete with a mockumentary substantiating the find – was a sublime commentary on a globalised, post-truth world. Almost as beautiful as the art was watching trusting spectators sit there trying to work out whether their leg was being pulled or not.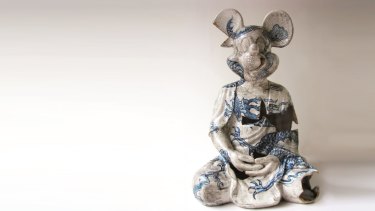 Theatre was less well-represented. Story of A Wanderer from Indonesian performer Abdi Karya fused autobiography and the renowned creation epic from Sulawesi, La Galigo. Combining offbeat anecdote, reverberant ululation and inventive use of brightly patterned sarongs, the piece may have been largely mystifying to the uninitiated, though magnetic sequences drawn from Indonesian traditions of physical theatre transcended linguistic and cultural barriers.
Dance To The Anticlinal Fold was a promenade performance which paid tribute to a famous local geographical feature which resembles a rainbow's arc carved into the rock. Poet Adam Ford, geologist Clive Willman, historian Robyn Annear, and Dja Dja Wurrung elder Uncle Rick Nelson joined forces to create a patterned and informative chain of stories, though the poetry was the weakest link.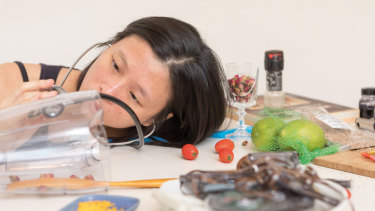 The interactive live art experience, Food Concert, from Taiwanese performer Chun-Liang Liu, was a work-in-progress not quite ready for audiences. It incorporated the sound, feel and ritual of food preparation; an intriguing idea but frustratingly undeveloped. And Deep Soulful Sweats' Equinox, a participatory dance event based on the Western Zodiac, proved energetic but failed to achieve lift-off as spectacle.
Such disappointments didn't dampen for a moment the sense of Castlemaine as a thriving creative community, and it's no wonder so many urban artists migrate there.
The writer travelled to Castlemaine as a guest of the festival.
Most Viewed in Entertainment
Loading