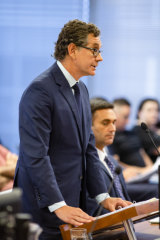 A Crime Stoppers tip-off led police to raid her house in Rathdowne Street, Carlton. Officers found significant amounts of drugs.
The primary target of the raids was Ms Gobbo's boyfriend Brian Wilson, while Ms Gobbo was a secondary target, Mr Winneke said.
Wilson pleaded guilty to trafficking and was given an eight-month suspended sentence. Ms Gobbo pleaded guilty to possessing and using drugs and was given a good behaviour bond without conviction.
The commission's first witness, Assistant Commissioner Neil Paterson, head of the force's intelligence and covert support command, said Ms Gobbo was registered as an informer 18 months later by Sergeant Trevor Ashton, one of the police officers involved in the 1993 raid.
Sergeant Ashton met with her sporadically at the MCG, where she had been working. The commission heard she was registered in July 1995 and the policeman noted her reliability as "very good" and that she "genuinely wanted to assist police".
"She was quite reliable and seeking a career as a solicitor," the officer wrote.
Despite this, "she wasn't considered reliable enough for the investigation to proceed," Mr Paterson to the commission.
Ms Gobbo was a barrister when she met drug squad detectives in 1999 and alleged another lawyer was laundering money and committing fraud with one of their clients.
Police initially thought she was "too overt in her desire" to give information, and had inappropriate relationships with police, but detectives later introduced her to asset recovery squad Detective Jeff Pope, who later became an assistant commissioner, the commission heard.
Detective Pope and another policeman registered her in May 1999 and Detective Pope became her handler. No charges were laid as a result of her information, which Detective Pope found to be of "no value", the commission heard.
Ms Gobbo went on to represent serious criminals in the gangland war, including Tony Mokbel and Carl Williams.
She was registered as an informer from 2005 to 2009, at the height of the gangland war. She continued to supply information until August 27, 2010, after former chief commissioner Simon Overland instructed police to stop receiving intelligence from her.
Mr Winneke said Ms Gobbo was threatened by Williams associate Andrew "Benji" Veniamin after she represented their rival Mark Moran in a bail application.
A Purana taskforce detective warned her on the steps of the court that she should be "very careful, he's a dangerous individual," Mr Winneke said.
Ms Gobbo, who was not present, is being represented by Peter Collinson, QC, who was a senior counsel in the banking royal commission.
Commissioner Margaret McMurdo said she was concerned about the "physical and psychological welfare" of Ms Gobbo.
Tammy Mills is a Crime Reporter for The Age.