The event was hosted by the larger-than-life Urzila Carlson (whose voice holds all-embracing comic potential for Australians, combining the dulcet delights of South African and Kiwi accents) and she ran a tight ship while raising her own flag. One elaborate gag about waxing her "undercarriage" in an Adelaide heatwave had the whole theatre in hysterics.
I came away with the overwhelming sense that 2019 will be a great year at the festival.
Genital japery was a common theme, so comedians who went below the belt in other ways stood out.
Michelle Wolf pulled no punches in her takedown of President Trump at last year's White House Correspondents' Dinner: her speech became a global sensation. No one does sardonic mockery better, and for her Melbourne comedy festival debut Wolf trained her sights, with Terminator-like efficiency, on a first date she didn't want to turn into a second.
Loading
For consistent nyuks, women tended to have an edge. The boozy harmonising of British sister act Flo & Joan (Nicola and Rosie Dempsey) made it hard to stop at one; I could've listened to Eleanor Tiernan's Irish stylings all night, and Sarah Keyworth is on the must-see list – she's a likeable, spidery gay comedian from London whose nimble stand-up has a sly larrikin bite to it, perfect for Aussie audiences.
You can add Tim Vine to your festival dance card. He was a mountain of pun, spraying groans and giggles every which way, and his "ventriloquist act" will delight all-comers. Mawaan Rizwan was an oddball storm of stand-up and physical comedy; Ireland's David O'Doherty was irrepressible with his turbo-slacker delivery and whimsical songs on Casio; Mark Watson gave a neat taster of his genius for self-deprecating humour.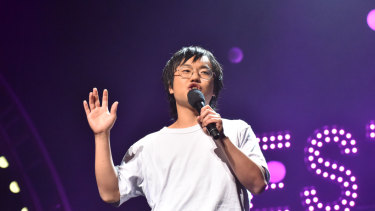 From the local talent pool, veterans did their thing – there were few surprises from known quantities such as Dave Hughes and Cal Wilson; Tom Ballard and Joel Creasey were almost hyperactively themselves – but recent arrivals swam more strongly over the few minutes allotted to them.
Loading
Last year's Logie winner for most popular new talent, Dilruk Jayasinha, showcased lithe comedy about weight loss; ultra-nerd Aaron Chen smuggled a rich vein of cross-cultural humour; and Venezuelan-born Ivan Aristeguieta slipped in a clever mix of language and sex.
There were a couple of average moments (lowlights, even), but it's a tough gig performing short stand-up spots, and it would be churlish to dwell on them when I came away with the overwhelming sense that 2019 will be a great year at the festival, and the hardest part will be choosing which acts to see.
The Opening Night Comedy Allstars Supershow airs on ABC TV, Sunday April 7, 8.40pm.
Most Viewed in Entertainment
Loading