The 28-year-old was in a marking contest in the first term of the season-opening win over Essendon when he made an ugly landing on his left leg. His knee appeared to hyperextend and he spent several minutes strewn on the turf before hobbling off with the assistance of two trainers.
Keeffe's day looked done. But most GWS fans would have been shocked to see him return to the field in the second quarter with the knee in question heavily strapped. Playing up forward for the remainder of the match, he booted three goals as the Giants routed the Bombers. Not a bad recovery.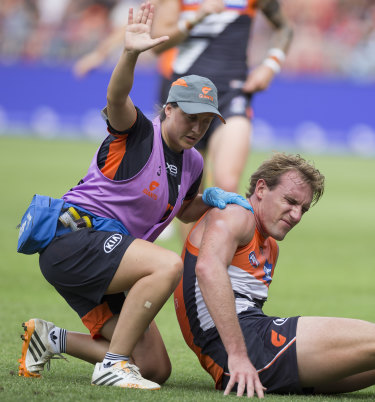 "It did hurt," Keeffe said of the incident. "There was a little bit going on there, but thankful enough it's not too serious – no ligament damage or any of that kind of jazz. I've done a knee before, so I felt pretty good about it not being an ACL."
Despite fears that there was something sinister waiting to be discovered after the match, Keeffe's knee pulled up well and he trained comfortably on Wednesday. It will be strapped up again in Perth but he doubts that there is another three-goal haul in the offing, given his expectation that he will be used in defence to help combat the likes of Josh Kennedy and Jack Darling.
"I trained as a backman all pre-season but I've got the flexibility . . . I'm happy to move forward, that's for sure, especially if we're on top, and try to get on the end of a few again," Keeffe said.
This team's got amazing belief that we're good enough to go all the way.

Lachie Keeffe
Keeffe's 50-game mark probably feels like what 200 does for other players. Saturday night will be his 10th game for the Giants, who signed him as a delisted free agent at the end of 2017.
The other 40 games all came at Collingwood, and they didn't come easily. Originally pre-listed as a 17-year-old, Gympie product Keeffe had to wait four years to make his AFL debut, and even then has only had one season in which he has notched double-digit appearances due to recurring injuries.
That was in 2014, but any hope he had of building on the momentum of that campaign was dashed the following February when he tested positive to the banned substance clenbuterol, triggering a two-year suspension.
Loading
The Magpies redrafted him when it was over but he did not play another AFL game until halfway through his first season with GWS. It's been a rollercoaster ride to 50 games, and he's come out of it with a unique sense of perspective and a determination to make up for lost time.
Keeffe sees no reason why 2019 can't end with a premiership for the Giants.
"This team's got amazing belief that we're good enough to go all the way," he said. "We feel like we're tracking well. We know we need to continue to get better. But we feel like we're capable of beating anyone."
Vince is a sports reporter for The Sydney Morning Herald.