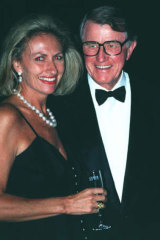 She had watched her husband succumb to dementia, been embroiled in a legal feud over his $40 million estate and then faced the glare of public scrutiny as her daughter Harriet's seemingly charmed and privileged life unravelled in the grip of ice addiction.
But in January those dark days appeared to be behind her. Indeed, she had celebrated her own 70th birthday just a couple of months earlier with a celebration at her Woollahra home attended by her closest friends and children Hugo and Harriet, who friends told PS this week "appeared well and happy, like she had gotten things together".
But by Wednesday, Hickson Wran's smile had disappeared as she bunkered down in her Woollahra home once more as news spread that Harriet Wran had been arrested and charged with possessing drugs and stolen goods on the Central Coast.
Outside the growing pack of reporters, photographers and news crews took up camp.
Harriet Wran's arrest came less than three years after her release from Silverwater prison, where she served time for robbery and being an accessory to the murder of drug dealer Daniel McNulty in August 2014.
On the day of her release from prison in 2016 after spending two of her four-year sentence behind bars, an ashen-faced Harriet addressed the awaiting media.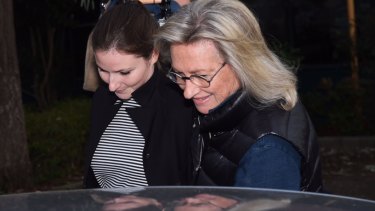 "This is not a press conference," she told the reporters. "I've really come to implore you to understand that I am still very much in recovery. It's going to be a long process and it's going to be hard and I ask you to understand … please to let me do what I have to do in private."
Standing close by with a firm, supportive hand on her daughter's trembling shoulder was Hickson Wran, just as she had been throughout her daughter's trial, walking past the barking media pack and saying nothing on a daily basis.
Adhering to the strict parole conditions her daughter faced, Hickson Wran even banned alcohol from the family home.
Harriet Wran's parole period came to an end on August 12 last year,  a month before her mother's milestone birthday soiree.
At the time of her sentencing Judge Ian Harrison noted Wran had been a model prisoner, had become drug-free while in jail, her prospects of rehabilitation were good and she was unlikely to reoffend.
And just six months ago Justice Harrison's views appeared to have been vindicated.
She had taken up camp drafting, attending various competitions around NSW with her horses.
Her social media activity indicated she was on the path to recovery, having started a "new life" on her family's farm at Ravensdale on the Central Coast.
But the privacy she begged for did not last. Posting images of herself riding horses on Facebook and working on the 50-hectare farm, she had also started studying an agribusiness degree at the University of New England, having previously volunteered at the clinic of Bondi Vet Dr Chris Brown.
It wasn't long before the media picked up on the story of her arrest, and it seems it will be sometime before Harriet Wran can return to obscurity.
Vale rock of ages
As the Gladys Berejiklian demolition ball gets into full swing at the Sydney Football Stadium, it's time to pay tribute to all the non-football action that has taken place inside the hallowed space over the past 30 years.
From the time  in 2000 that Barbra Streisand draped hundreds of metres of giant velvet curtain around the stadium's interior to "muffle" her sound – much to the annoyance of Paddington locals hoping to cop a free listen of her hugely expensive ($1530 a ticket) concert – to when Billy Idol was almost electrocuted in 2002 in front of 80,000 people, the old SFS holds many memories for Sydney's non-footy fans too.
When the stadium opened in January 1988 it had an – ahem – all-star lineup with a concert headlined by John Denver, Joe Cocker, Air Supply, Eurogliders, Dragon and Julie Anthony (thankfully minus that other dragon), Sharon O'Neill and Joe Perrone.
Over the years the calibre of talent certainly improved, with U2, George Michael, Robbie Williams, Coldplay, Foo Fighters, Red Hot Chili Peppers, Pearl Jam, Taylor Swift, Eminem, Bon Jovi and Sia all gracing the same stage that Streisand had.
There's been two mega operas staged at the SFS, Turandot and Aida.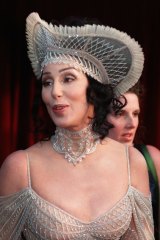 It even hosted the Edinburgh Military Tattoo.
Meanwhile PS has been unable to accurately verify if rumours are true that Cher's 1998 Oscars' ensemble, specifically her headwear, was a homage to the SFS, but the similarities – all sweeping arcs, fortifying buttresses and elegant curves – are pretty obvious.
Vale SFS, it's not just this town's footy fans who will miss you.
Country boy comes of age
In stark contrast to how his big sister marked her 21st, the late Kerry Packer's eldest grandson, Benjamin Barham, marked his coming of age in a low-key fashion last Saturday.
The son of Gretel Packer and her first husband, Monaco based financier Nick Barham, the strapping young man has eschewed the glitz and glamour that so often accompanies the Packer name.
Rather it was a small gathering of immediate family, with both his parents in attendance, and his closest friends to mark the occasion.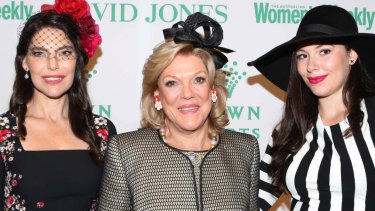 With a passion for the bush and country life in general, Barham spends most of his time at the Packer family country estate Ellerston, where he works on the property.
And while his sister Francesca dusted off the Packer surname when she launched herself onto the social scene four years ago, and now counts a staggering 421,000 followers despite not having uploaded any images for nearly a year now, young Barham appears to have little appetite for such frivolities.
Fashionista sees mystic light
Claudia Navone swept into Sydney nearly 20 years ago wearing a Fendi fur, diamonds and Gucci heels, an Italian fashionista installed at Harper's Bazaar Australia in the glory days of magazines.
And while the huge coat often made her look like a lost woolly mammoth in Sydney's mild winters, Navone once told PS about her beloved fur: "minks are like chickens … they're farmed. I wouldn't wear an endangered species. Sure, I don't like the way they are killed, but I don't like the way any animal is killed."
Those fashion days are long behind her and Navone, who inspired a generation of Sydney stylists including  Christine Centenera and Edwina McCann who went on to become editor-in-chief of Vogue Australia, is back in town, though this time as a mystic spiritualist.
Centenera, McCann along with other local fashion notables Marina Afonina, Carla Zampatti, Camilla Freeman-Topper, Heidi Middleton and Pip Edwards, are set to join Navone in Paddington on Wednesday for the launch of her first book The Shapeshifter. A Tale From Glitter to Light.
These days the Gucci heels have been replaced with Birkenstocks and the mink appears to have been put out to pasture, following "a powerful and spontaneous spiritual awakening". She has  transformed  into a "spiritual teacher" and "mentor" who travels between the family palazzo in Florence to London and Ibiza.
What a catch!
Rose Bay's kayakers have been "swarming" around a mysterious giant superyacht that has taken up position in Sydney Harbour this week. PS can reveal the giant sailing craft, called Aquijo, is three-years-old and belongs to Norway's richest fisherman,  Kjell Inge Røkke, who has amassed a fortune of around $3.8 billion afer starting his business with a just one trawler back in 1982.
In 2007 Røkke was convicted of corruption after bribing his way to a boat operating licence and served 23 days in prison. Even there the charismatic Roekke was something of a hit, and upon his release spent more than $5000 on takeaway pizzas for his old cellmates. Indeed it's this good life that is drawing attention in the Eastern Suburbs. It is not clear if Røkke is on a fishing expedition down under, though PS was informed you can charter the 85-metre fast cruising ketch for $100,000 a day. Bargain!
Andrew Hornery is a senior journalist and Private Sydney columnist for The Sydney Morning Herald.
Most Viewed in Entertainment
Loading