MELBOURNE INTERNATIONAL COMEDY FESTIVAL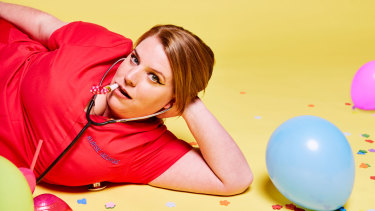 NURSE GEORGIE CARROLL: TREAT YOURSELF ★★★½
European Bier Cafe, until April 12
Nurse and stand-up comedian? It's as irresistible a crossover as, say, magic and boarding school.
She'll never eclipse J.K. Rowling on the world stage, but Georgie Carroll has such a roguish, boisterous sort of bedside manner on the comedy stage that the room is her world to command.
Health-care professionals will be especially attracted to these tales told out of school – and there were many nurses in the audience – though Carroll's conspiratorial shtick and mischievous Mancunian delivery holds broader appeal.
She plays it fast and loose in Treat Yourself, peppering the show with hospital high jinks and amusing anecdotes from both her long career and her own health troubles. You want more of those – they're so infectiously funny – but it's part of Carroll's charm that her froth-machine never runs dry.
She can burble with errant enthusiasm about everything under the sun, with improvised audience engagement that's never only what the doctor ordered – it comes with an extra dose (or three, or the whole bottle) of fun.