Barmah Forest mostly consists of river redgum forest flood plains and freshwater marshes, and is a site of great importance to native waterbirds, fish, frogs, turtles and crayfish, many of which are endangered.
Parks Victoria's chief conservation scientist Dr Mark Norman compares it to the Amazon or Kakadu. "It's that special," Dr Norman said.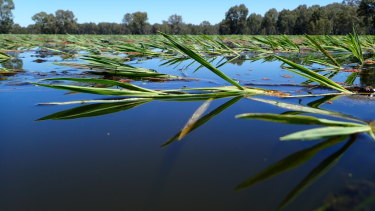 The forest sits on Victoria's border with NSW. Just over the border, brumbies are a protected species. In Victoria, they are a pest.
"The sheer number of horses means that the park ends up looking like a football team has run through it and trampled everything," Dr Norman said.
"We have got drone footage of horses running through mud that should be nesting for waterbirds. There is just nothing left."
The agency's draft plan says the size of the flood plains has reduced by 95 per cent since the 1930s. It blames the horses, which eat and trample the environment.
"This is the hard reality of trying to find conservation solutions," Dr Norman said.
"If we don't act, what do you tell generations down the track? 'We used to have these lovely flood plain marshes, but that went years ago'."
Environment Minister Lily D'Ambrosio said the feral horses not only destroyed the natural ecosystem, but also posed a risk to human safety.
She said the animals had wandered onto roads and even walked into nearby towns.
"It's got to the point where serious action needs to be taken," she said.
If the plan is approved, a limited number of horses will be trapped and rehomed. The rest will be shot.
The move has the support of the area's traditional owners, the Yorta Yorta nation.
"The Yorta Yorta Council of Elders have major concerns for the natural biodiversity, riparian areas and sand ridges in which feral animals, particularly feral horses, impact. These areas also hold sites of cultural significance," the Council of Elders said in a statement released by the government.
The report also proposes shooting and trapping other feral animals including pigs, deer and goats.
The Victorian National Parks Association said endangered animals, including the broad-shelled turtle, were being harmed by wild horses.
The association said the welfare of the horses had been affected by recent droughts, with some dying of starvation.
The Hoofs2010 group, which is committed to protecting the brumbies, argues the horses are now a core part of the area's heritage and should be allowed to remain.
The group's founder Lynette Sutton said the brumbies also attracted tourists to the forest.
"A lot of people who visit the national park would only go there to see the horses," she said.
Ms Sutton said the horses had been part of the landscape for more than 180 years and culling them would be a major loss.
"They're not native but neither are we," she said. "They're a target which is quite sad."
Liam is The Age and Sydney Morning Herald's science reporter
Benjamin is a state political reporter