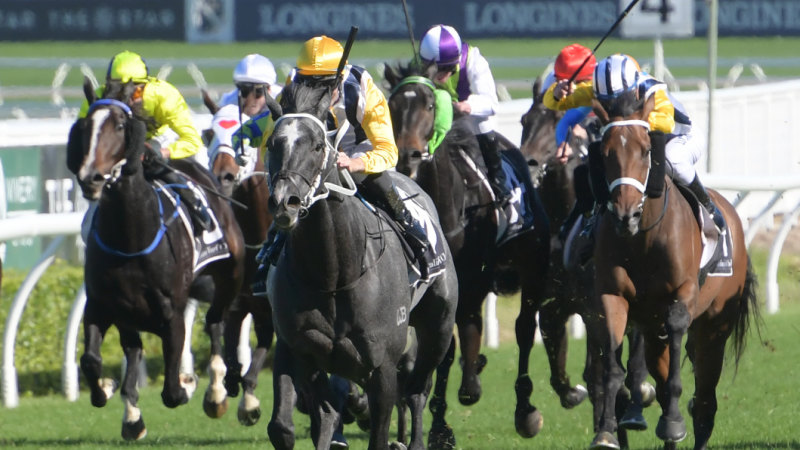 "He has got a turn of foot this preparation. He has just really grown up now.
"You really saw it when I asked him to go – he just zipped away."
Nobu is a $13 chance for the Queensland Derby following the win.
While Nobu, which only beat one home in the New Zealand Derby, was showing he had put it together, Duchess Of Lennox looks more a work in progress.
She had won twice for Stephen Jones at Scone before being transferred to the Waller yard for her Kensington run.
Kathy O'Hara had trouble getting Duchess Of Lennox into a clear run and when she had got in the clear, the winner was away.
"She is just so new and raw and really is still learning," O'Hara told stewards when questioned about the filly. "She is probably going to be a much better filly when she gets the blinkers on, because she is looking around a bit."
Chris taking him to New Zealand has helped him. He has come back a lot stronger, a lot tougher.

Tommy Berry
Nobu will head to the Queensland Derby and Duchess Of Lennox could strengthen Waller's Queensland Oaks, where she is a $21 chance, but both are likely to have another run before heading north.
"I think she can take the steps she'll need to make it to a race like the Oaks in Queensland," O'Hara added.
Nobu looks like he is ready to step to 2400m and his style of racing will suit the pressure that often comes in a Queensland Derby.
"Chris taking him to New Zealand has helped him. He has come back a lot stronger, a lot tougher. Both his runs this prep have been dominant," Berry said.
"He would be a nice chance in a Queensland Derby off that, because he relaxed well with the speed on. The race was set up for him to finish as strong as he did.
"All he can do is keep improving and is completely different horse than what he was last preparation."
Later in the day Renewal showed what he can do when he jumps from the barrier and puts himself in the race. Jean Van Overmeire got his first Saturday winner after a two-month lay-off with a broken wrist as Renewal scored a comfortable win from Star Of The Seas.
"He just jump so well and got into a great spot," he said. "He travelled so well into the race. I was always comfortable and it was really good strong win.
"It is nice to get that, because it helps to let people know you are back."
Van Overmeire broke his wrist when leading a horse, rather than riding, three months ago.
"It just went and I had my hand in the wrong position and that was it," he said. "I had that time off and it takes a bit of time to get back up and going, but that will really help."
Racing writer for The Sydney Morning Herald