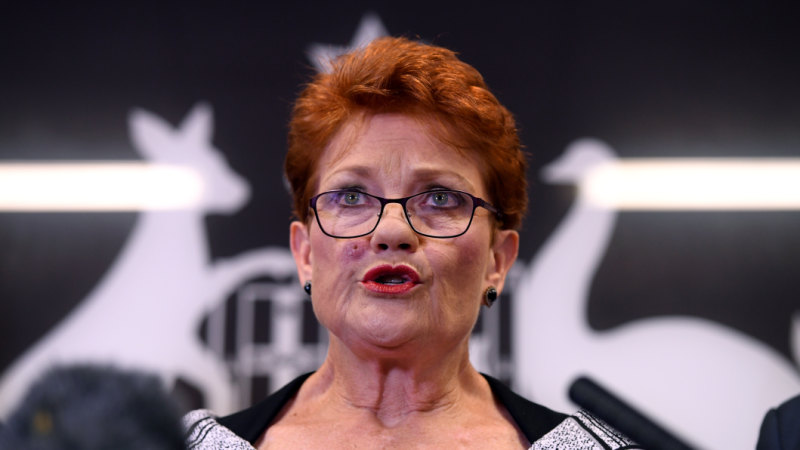 The how-to-vote cards show One Nation preferencing Coalition candidates ahead of Labor in a series of seats including Herbert in Queensland, which the ALP's Cathy O'Toole won at the 2016 election by just 37 votes.
One Nation is also preferencing Home Affairs Minister Peter Dutton ahead of Labor's Ali France in the seat of Dickson, the LNP's George Christensen in the seat of Dawson and Ken O'Dowd in the seat of Flynn.
But One Nation is telling its voters to give their preferences to either of the major parties in the marginal Queensland seats of Brisbane, Bonner, Bowman, Forde and Leichhardt.
At the 2016 election, One Nation claimed 7.6 per cent of the vote in Leichhardt where Warren Entsch is facing a battle to retain the seat ahead of Labor's Elida Faith.
Forde is held by the Coalition on a margin of just 0.6 per cent while both Bonner and Brisbane are considered to be at risk.
Loading
In Western Australia, where both parties agree up to five seats are in play, One Nation has issued split preference how-to-vote cards in Hasluck, held by Aged Care Minister Ken Wyatt, Swan and Stirling.
All three seats are being targeted by the Labor Party. Seat-by-seat opinion polls at the weekend showed support for One Nation in some Perth electorates at 5 per cent.
But in other WA seats, including Cowan, which Labor's Anne Aly holds by just 0.7 per cent, One Nation is preferencing the Liberal Party ahead of the ALP.
The south-east Melbourne seat of La Trobe is also a key marginal that both major parties believe Liberal MP Jason Wood will battle to retain. One Nation, which is running in five lower house seats in Victoria, has issued a split ticket in La Trobe.
Liberal and Labor party MPs were taken by surprise by some of the split tickets, suggesting they were an attempt to increase One Nation's bargaining position for future elections.
Shane is a senior economics correspondent for The Age and The Sydney Morning Herald.