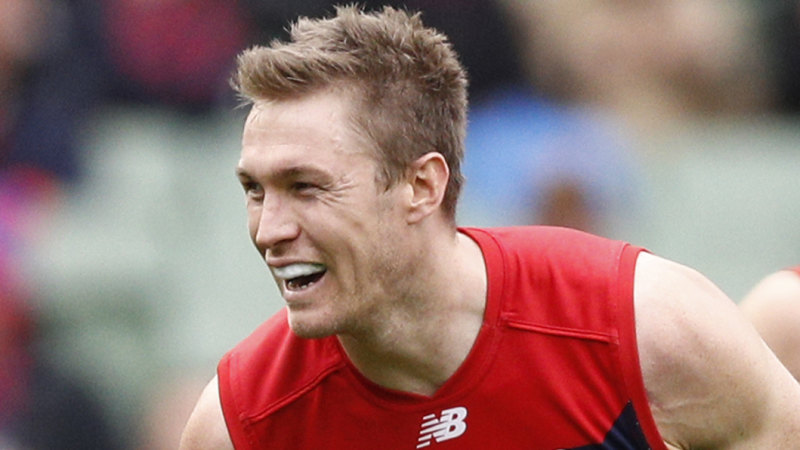 But McDonald emphasised that his team had remained calm when they needed to.
''We gave ourselves a chance just by setting up well. We had two good centre-bounce setups, [Max] Gawn did a good job in the ruck, got it forward and we scored.
Loading
''So I think the preparation actually came out tonight … When we were down a goal we knew it was probably 50 seconds to a minute.
After Marty Hore levelled the scores, McDonald said, ''I assumed 10, 15 seconds [left], so enough for a point. I knew it wasn't much more than 15 seconds based on what we used before.''
McDonald was under no illusions about where the Demons were placed.
''As a team, we've had a horrific start, [we were] one [win] and five [losses], we're not playing the way we know we can play.
''Personally I've been really disappointed in the way my form's been, I've been trying to work really hard on it, and it just started to turn this week.
''It's been better training the last couple of weeks, but it took until the second half today to start playing some better quality footy.''
Coach Simon Goodwin said he had seen good signs that McDonald was finding his feet again.
''He'd like to be marking the ball a little bit more, but he continued to find and work his way into the game.
Loading
''He didn't at any stage drop his bundle, he just kept playing, and eventually his opportunities came.'' Both expressed frustration at the side's ball movement.
''That's our biggest area to improve, it's the forwards giving the midfielders better options and the midfielders taking the right option,'' McDonald said.
''We've been killing ourselves with it all year. We've been working on it, it just hasn't clicked yet, and that sort of stuff can take a long time to click, but we're getting there.''
''We know as a club you need to be great in all three phases of the game,'' Goodwin said.
''Right as we sit here today we're struggling to score, but I'll take you back a few weeks to where we were a few weeks ago to where we are now.
''We wanted to get our contest and defence back first, and that's what we've worked on strongly as a club. And now it's about starting to transition that good work into more scoring opportunities.''