Unsurprisingly, it's called Mini Melbourne, and features landmarks including Flinders Street Station, St Paul's Cathedral, Town Hall and Federation Square.
"This is a world first," says Education Minister James Merlino.
"For the first time ever, we have a virtual city primarily for educational purposes. No other place around the world has undertaken this particular task."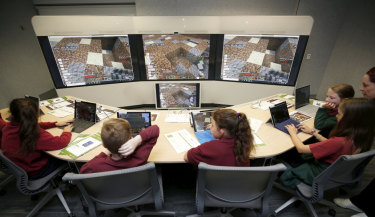 The hugely popular Minecraft – the best-selling video game behind Tetris since it was released in 2009 – allows players to roam virtual spaces and create their own buildings and cities.
Last year, Victoria's Education Department entered into a five-year licensing agreement with Microsoft to provide all state schools access to Minecraft.
Harrison, who was among a small group of primary school students invited to try out the game on Monday, spent the morning exploring the 600,000 square metres of virtual Melbourne.
Harrison's favourite element of the new version was "finding things in Melbourne that I don't usually see", while the most recognisable landmark to him was St Paul's Cathedral.
While the online program is primarily intended for primary and high school students, the Melbourne version will be available to Minecraft's 154 million users worldwide.
Players can explore, build and design their own virtual corners of Melbourne.
Victorian school students will also be able to take part in an 'Archaeology Adventure' in the game, where as 'virtual archaeologists' they can work at the Metro Tunnel construction site on Swanston Street and learn about the artefacts recently uncovered there.
Stephen Elford, the education department's digital learning coach, is one of the tech wizards behind the Mini Melbourne game.
"Melbourne itself was a couple of months [to complete], the archaeology adventure alongside that took about another six [months]," he said.
"There's lots of immersed learning within that activity, whereby students have to make decisions and live by those decisions."
It's hoped the game will allow students to learn more about their home town and the big changes happening to the cityscape.
"Innovations such as this engage young people in problem-solving and STEM subjects, inspiring them to work on city-shaping projects," Mr Merlino says.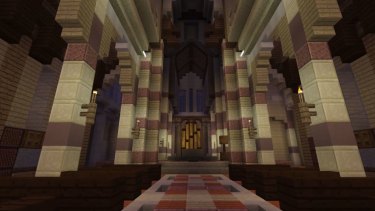 Mr Elford says he is ecstatic with how the game has come together.
"It's better than I could've ever imagined," he says.
He too agreed with Harrison about his favourite landmark: "I personally like St Paul's Cathedral the most."
As for any hidden surprises in the game, which are known to gamers as 'Easter eggs', Mr Elford advises people to look out for a "drop bear" in the Royal Botanic Gardens.