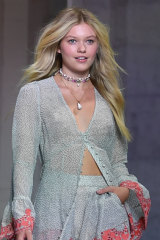 "I am glad they smiled because I was like pretty hardcore backstage … [I said] 'You're the most beautiful women on the planet, can you please put a smile on your face," she said. "Kindred is an inviting, happy brand, we don't want people to take fashion too seriously."
The brand's collection, dubbed Boheme Heart, carried on the feminine aesthetic of the brand through paisley-printed maxi dresses and, in a departure for the label, not a pink garment in sight.
"It was a big departure for us … no ditzies, and the colour palette was like a summer's day," Lizzie Renkert
On a packed day at Mercedes-Benz Fashion Week Australia, other highlights included swimwear brand Bondi Born, which exemplified the 2.0 aesthetic of Australian swimwear: fewer girlish prints and more strong yet feminine shapes in block colours.
A favourite with the party set, Alice McCall staged one of the mega-shows of the day, with a collection inspired by her mother's wardrobe that was full of colour and sparkle.
On Tuesday afternoon, organisers announced model Halima Aden, the first woman to wear a hijab and "burkini" in Sports Illustrated's Swimsuit Edition will be attending the final day of Fashion Week as a guest of mobile company Huawei.
Fashion Week runs until Saturday. The reporter travelled as a guest of IMG.