With five days before their season's crescendo, the Sky Blues looked anything but nervous in their first full training session since their demolition of perhaps their fiercest rivals.
Loading
Sydney's carefree mood appeared more reflective of what would be expected in a pre-season session than one of the final training runs before a grand final. That relaxed demeanour is not to be confused with a lack of ambition, though, with the Sky Blues determined to win their third attempt at silverware this season, having come within touching distance twice already.
Missing out on the Premiers' Plate and the FFA Cup has been a point of frustration for English striker Adam Le Fondre, who left his homeland hoping to add at least one more trophy to the 2012 Championship title that sits in his trophy cabinet.
"It's what I've come out here for, to play in the big games," he said. "We were unlucky in the FFA Cup finals and Obviously coming runners-up in the Premiers Plate, it's another opportunity to win some silverware and Sunday we have to put a top performance together."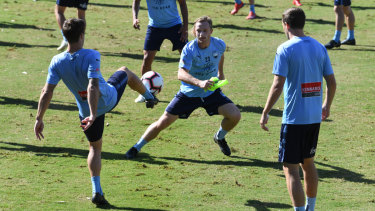 Sunday's match looms as a potential final A-League game for Sydney FC marquee Siem de Jong. The Dutch international is on loan from Ajax and has not held talks with the Sky Blues over a possible extension of his deal. He is set to return home in June and is hopeful of working his way back into calculations for the UEFA Champions League semi-finalists.
"I haven't really spoken to the clubs yet because I am going back to Holland first and then see what happens, speak to Ajax and see what they want because I have one more year left on my contract there. I have no idea what my situation will be," he said.
"I have always said I have enjoyed playing here, I would love to play here some more but I said the same at Ajax. If I had the chance to play I would definitely try to get picked for the [Ajax] squad next season."