SunCentral was then kickstarted by Queensland Premier Annastacia Palaszczuk in February 2016 and underground waste and infrastructure facilities added during 2016-17.
"(The new city centre) offers mixed-use apartment precincts alongside planned waterways and parkland," SunCentral Maroochydore chief executive officer John Knaggs said.
"This is a unique opportunity for experienced developers and institutional capital groups to enter into a long-term partnership with SunCentral Maroochydore and set a new benchmark for city centre design and development in one of the fastest-growing regions in the country."
Roads, footpaths, kerbing and landscaping are in place.
It is being built on the site of the old Horton Park Golf Club course, which was bought by the Sunshine Coast Council for $42 million in 2015 and relocated to a nearby site.
SunCentral has since leased some blocks of land in the core commercial area of the new CBD and has guided the civil works and underground infrastructure stage.
The company said it is time to allow private-sector firms to develop the next stage of the multimillion-dollar development.
Mr Knaggs said SunCentral and the Sunshine Coast Council never intended to develop the "vertical buildings".
"We don't fund buildings," Mr Knaggs said.
"Hence we go to the market to work with those 'vertical' investors and developers on the staging so they can sensibly build up those precincts in the vertical realm," he said.
"Our role is to intelligently stage those civil works to create those lots."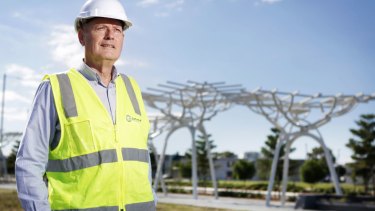 Expressions of interest on the next 15 hectares of SunCentral's Maroochydore site open this morning and close on August 30.
What the Maroochydore SunCentral offer includes
67,500 square metres of commercial space
25,900 square metres of retail floor space
1390 residential apartments
Rather than bidding for individual blocks of land, larger land parcels on a precinct scale are now available, Mr Knaggs said.
Loading
"We are seeking a long-term set of development partners for the next 10 to 15 years on the next major stages of the project," he said.
The land available to investors is south of the main waterway, which runs east to west across the 50-hectare site.
"It is the private sector's role as the investor in those buildings which will produce the city centre in its entirety."
Mr Knaggs said SunCentral expected to announce later in 2019 the university or college to be built on site.
The first commercial buildings in the first stage – which has already gone to market – were expected to be start mid-2019, he said.
"The next three to five years will see significant building on stage 1A," he said.
An eight-storey commercial property by local developer Evans Long and a two-tower 152-unit residential complex by Brisbane's Habitat Development Group will start soon.
The Sunshine Coast Regional Council's new nine-storey headquarters also begins in the next six months.
The site also includes the landing port for Australia's newest undersea telecommunications cable.
The Sunshine Coast's population is tipped to grow to from 346,522 to 500,000 by 2036.
Tony Moore is a senior reporter at the Brisbane Times