"The RACV believes it's time to begin planning Metro 2 as a separate idea to the state government's proposed suburban rail loop," said Byrce Prosser, the RACV's general manager of public policy.
The rail tunnel is "essential to deliver the infrastructure our growing city needs" Mr Prosser said, serving as a "sister project" for the Metro Tunnel that is currently being built.
"Metro Tunnel 2 is complex, with many issues to be considered, but it is a top-priority that is currently overlooked and requires support from all tiers of government."
The project, first floated by Public Transport Victoria in a major transport plan in 2013, has the backing of Infrastructure Victoria, with chief executive Michel Masson calling on the Andrews government to start planning the rail line this year.
The national road lobby group, Australian Automobile Association, has also thrown its weight behind Metro 2, calling for $200 million for a business case on the project.
But neither the state government, nor the opposition have committed to the rail tunnel.
Instead, the Andrews government promised to build the $50 billion suburban rail loop before the state election last year.
At the weekend, Labor leader Bill Shorten promised $10 billion to help fund the 90-kilometre rail line over the next 15 years, in the biggest federal transport infrastructure commitment to date.
When asked why the suburban rail loop was picked over Metro 2, Labor's infrastructure spokesman Anthony Albanese said work could not start on Metro 2 until the Metro Tunnel was finished.
"That is why federal Labor is backing the project with a $2 billion commitment," he said.
"Labor is supporting the Metro Tunnel, airport rail link and suburban rail loop as part of a holistic approach to addressing Melbourne's long term public transport needs."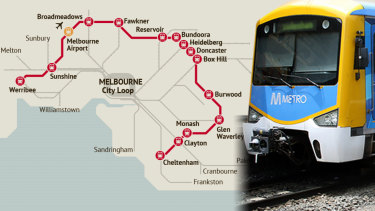 A Coalition spokesman said the government, which recently promised $4 billion for the dumped East West Link, said a slew of road and rail projects would "get everyone home sooner and safer".
"The Morrison government has outlined a transformative package of strategic road and rail projects across the whole state that will bust congestion and make a tangible effect to people's lives."
Greens' transport spokesperson Janet Rice said she believed Metro 2 was "the critical missing transport link" in Melbourne, describing it as "a much more urgent project than the suburban rail loop".
But a proper plan for the state's transport was needed, rather than multibillion dollar promises that "serve the interests of politicians at election time", she said.
It comes as a new RACV survey shows that both congestion and the economic impact of poor transport planning are top of mind for voters heading to the polls this Saturday.
The survey of nearly 5000 Victorians revealsthat voters in outer suburbs are more concerned about congestion than people in the inner-city, while rural voters such as those in marginal seat of Corangamite, were chiefly worried about road safety.
However, traffic was the key concern among voters in marginal inner-Melbourne seats including Macnamara, Chisholm and Higgins.
Transport Infrastructure Minister Jacinta Allan said the current Metro Tunnel works at Parkville station were being "future proofed" should more infrastructure be built.
"We agree with the RACV that we need a continuous flow of major transport projects, that's why we're delivering Victoria's biggest build," she said.
Timna Jacks is Transport Reporter at The Age