Interesting that we haven't heard from Bill Shorten.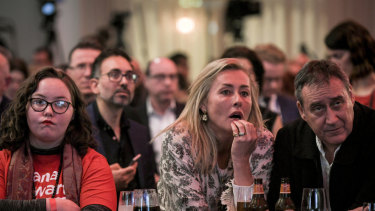 Usually, the loser speaks first to concede and then the victor speaks second. 
But we're watching Scott Morrison's car C1 crossing the Sydney Harbour Bridge to Philip Street where he'll arrive at the victory party at the Sofitel Wentworth hotel, presumably about to deliver his speech.
Scott Morrison is leaving Kirribilli House so we can expect his victory speech shortly as its only a ten-minute drive from the Prime Minister's Sydney residence to the CBD at this time of night.
He will no doubt be greeted rapturously by the Liberal party faithful at tonight's party at the Sofitel Wentworth.
Bob Hawke's legacy has loomed large over this election, particularly since his death on Thursday night. 
But John Howard, who is full of praise, says Bill Shorten was no Bob Hawke.  He also said that the result showed Australians have rejected the politics of class division.
Hugs are the go at Labor's election party in Melbourne, as captured by our photographer Alex Ellinghausen.
And we're playing the world's smallest violin for the government staffer who had booked a post-election loss holiday…
Our photographer James Brickwood has captured the Liberal Party's elite arriving at the Sofitel where Scott Morrison is expected.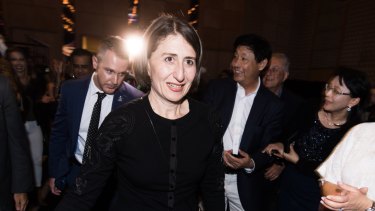 Our trio of number crunchers, Shane Wright, Matt Wade and Nick Bonyhady have delivered their verdict.
From here Labor can't win the 2019 federal election, barring a huge reversal of the national swing in the unprecedented number of pre-poll votes lodged.
This means Scott Morrison is now well placed to be returned as prime minister but what remains unclear is whether he will govern in minority or with a majority.
The Labor Party has failed to pick up enough seats in Victoria and Western Australia to offset losses in Queensland and NSW.
The Coalition, despite a small swing against it, has at least 73 seats, meaning it is within reach of the 76 it needs to command a majority in the House of Representatives.
Labor looks to be struggling to make gains in WA while a large crossbench, which includes a number of Conservative MPs, will be enough to keep Mr Morrison in power.
This almost certainly spells the end of Bill Shorten's political career and ranks the 2019 result alongside John Hewson's 1993 loss.
While a vindication for Mr Morrison, the victory is also good news for Nationals leader and deputy PM Michael McCormack.
The junior member of the Coalition managed to hold all its seats, actually enjoying a swing to it in NSW. National-sitting MPs in Queensland also easily held off their Labor counterparts.
It's worth considering the fates of the leaders should they lose.  
Scott Morrison has pulled his party back from the brink of oblivion to the possibility of a win or hung parliament. In short, he's already pulled off the impossible. No matter what happens, he stays Liberal leader. The party is unified behind him and even if Tony Abbott had remained in the parliament, he would not have been able to dislodge Morrison. 
We cannot say the same for Labor. 
MPs have always had doubts about Bill Shorten and MPs have been privately open throughout the campaign that he was a huge drag on their vote. 
If he loses the unloseable election, not only will his name sit alongside John Hewson's but he will undoubtedly be deprived of the Labor leadership. 
Anthony Albanese would likely replace him.
The mood at the Labor party's election night party is grim, as captured by our photographer Alex Ellinghausen.
Reporter Judith Ireland is at the Hyatt Place hotel in Melbourne and sent this update.
There are red balloons, fried things and a big screen playing Antony Green. The mood is watchful and subdued – lots of people looking at their phones. There was a big hurrah when the news came through that Tony Abbott had lost his seat, but some Labor attendees are saying their best hope now is minority government. Others are shrugging off the results at this point – saying it was "always going to be a long night" (keep in mind that Bill Shorten predicted a clear Labor win earlier today, before polls closed).
As voters in the east coast appear to have failed Labor, the opposition is turning its attention to the West, hoping the voters of WA will deliver their long-predicted election win. Our political reporter Nicole Hasham has a full update here.