"We realised we could do all these experiments by manipulating it with this technology using this projected light to make a picture."
The researchers are working with what's called a Bose-Einstein condensate, formed when an element – in this case rubidium – is supercooled all the way down to almost absolute zero.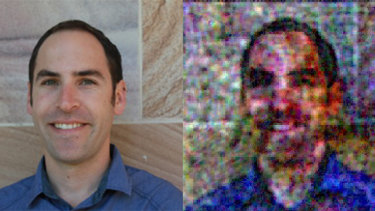 Under the right conditions, the atoms stop acting in a "normal" way and instead clump together and behave more like photons, existing in a quantum state between a particle and a wave.
Using this "quantum paint" the researchers project an image of the masterpiece in question, including Van Gogh's Starry Night and Da Vinci's Mona Lisa, backwards through a microscope onto the material, which forms the shape of the picture.
"One of the things that's really weird is the state of matter – all the atoms in it are acting as essentially one big wave – they're distributed across the whole frame, so I couldn't say where each atom is. They're all in one big quantum state that just happens to have the shape of the art piece itself," Dr Neely said.
Loading
"And then as soon as I take a picture I destroy that quantum state, make a measurement, now they're atoms again and I can see what the system is doing.
"I think that's actually an interesting aspect to it, you have this kind of superfluous quantum state that has an artistic quality to it, and then you take a picture which destroys it."
The image is destroyed because at the quantum level when you observe a particle you collapse its waveform, a phenomenon known as the Observer Effect and demonstrated by the famous Schrodinger's Cat thought experiment.
The size of the frame these pictures are formed in is around 100 microns wide – about the thickness of a human hair.
In real-size the physical image would be almost invisible to the naked eye, with each pixel representing only about 50 atoms.
The pictures are initially in black & white but colour images can be produced by doing multiple passes with the same image through different colour filters.
Dr Neely said while the tiny pictures made of atoms were not the main focus of the research, the team was hoping to find an artist who was interested in collaborating with them using the technology in some way.
"Although these images are fascinating, extending the creative expression of this medium is the next step," Dr Neely said.
"I'm hoping we can engage with an artist and take it to a creative level … because this is a new thing, having art that's behaving quantum mechnically."
Stuart Layt covers health, science and technology for the Brisbane Times. He was formerly the Queensland political reporter for AAP.