"It is 112 hectares so there are ways you can divide it up, and certainly over time, it's not just a case of one day it's there and one day it is not," Blanksby said, maintaining that Wednesday's announcements were more a starting point for discussions than a definitive plan.
"The process at Caulfield is open to industry and public consultation, today's announcement was alll about saying 'give us the feedback'. It is this committee's job to present the opportunities and then let's see what peoples' views are," he said, adding that the MRC application to consider rezoning Sandown from special use to comprehensive development was simply a matter of "exploring all options."
"What the rezoning process is really trying to drive out is how we could do that, what different ways there are, or what opportunities there are for development. Council or state government has its say as well, it can't be entirely residential, there needs to consideration for community, commercial use and schools."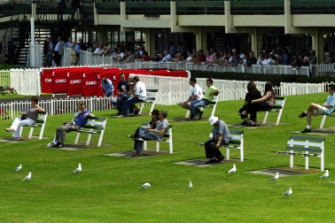 It appears one option not under consideration for Sandown is as a training centre, much to the disappointment of some trainers that will need to depart Caulfield within five years. Racing Victoria and state government have committed a combined $40 million into developing training facilities at, and moving trainers to, Pakenham and Cranbourne.
Caulfield trainers met with officials last week to discuss relocation, but Blanksby said it was a Racing Victoria decision not to develop Sandown for training despite its relative space, lush turf and former status as spring carnival quarantine base for visiting horses.
"We have been open with them (RV) with what options exist for Sandown and the first of them we discussed was about the training future and whether Sandown was an option," Blanksby said. "It was clear from their perspective that they saw Cranbourne and Pakenham as the future. A lot of participants are asking why not Sandown? But there was a lot of work put into what the cost of that would be. That $40 milllion announcement was well thought through."
Blanksby said Racing Victoria is also "heavily involved" when it comes to deciding racing's future at the venue.
"Sandown takes a lot of load and serves to drive a lot of wagering results, it isn't just a matter of one day open, next day closed. There has to be a discussion and consideration given to the impact on other tracks."